Yen Tu Spring Festival opens
Nhan Dan Online, Feb 5, 2009
The Yen Tu Spring Festival 2009 opened at the Yen Tu beauty spot and relic site on February 4.

Uong Bi, Vietnam -- The opening ceremony was held by the People's Committee of the Uong Bi town (Quang Ninh province) and the Executive Council of the Quang Ninh Buddhist Sangha.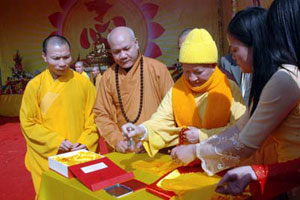 << Most Venerable Thich Thanh Tu opens a seal.
The ceremony had a participation of Vice President Nguyen Thi Doan, Most Venerable Thich Thanh Tu, Deputy Chairman of the Vietnam Buddhist Sangha's Executive Council and so many pilgrims.
The Yen Tu mountain and forest is praised as 'land of happiness', thanks to its pristine beauty and majestic natural landscape.
Yen Tu lies in Vietnamese people's mind as a sacred place with high mountain and thick forest imbued with enigmatic legends of a 700-year-old ancestral land and a place where the Truc Lam meditation sect orginated and was rich in Vietnamese cultural identity and national beliefs.
The Yen Tu relic site contains a system of pagodas, temples, towers and a century-old tree forest which are dotted around from the Do slope to the peak of the Yen Tu mountain. Especially, the Dong (Bronze) Pagoda, which sits atop the mountain's Phu Van peak, is a focal point of attraction of pilgrims and tourists.
At the opening ceremony, leaders of Quang Ninh province and Buddhist dignitaries offered incenses to remember King and Buddhist monk Tran Nhan Tong and prayed for peaceful and prosperous country and happy people of Vietnam.
Since early this lunar year, Yen Tu has welcomed 150,000 visitors.
The same day, many festivals were held nationwide. The Festival of Competition on Singing the Quan Ho (Love Duets), the Ky Suu (Year of Buffalo) Spring Newspaper Festival and the Ornamental Flora and Fauna Exhibit were organised in Bac Ninh province on February 4.
The Ba Be Spring Festival was inaugurated in Bac Can province on February 4, attracting so many foreign and domestic visitors.
The People's Committee of Van Yen district (Yen Bai province) has held the Dong Cuong Temple Festival and received the national historical relic certificate for this temple in Ben Den hamlet, Dong Cuong commune.
Hue city has opened the Huyen Tran Temple Festival in the Huyen Tran Cultural Centre at Ngu Phong mountain. Many people participated in the opening ceremony and offered incenses.