Buddhist nun devotes her life to charity work
Saigon GP Daily, Mar 10, 2009
Ho Chi Minh City, Vietnam -- Under the porch of Phung Thanh Temple, sitting on an old mat behind a large scrap heap of linen is 86 year old Buddhist nun Thich Dam Anh. She is sewing scraps together to create big sheets of fabric. From such sheets, blankets will be made and given to poor people to help them survive chilly winter nights in the north.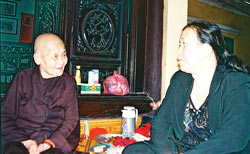 << Nun Thich Dam Anh (L) outlines the plan of a charity trip with a local laywoman
Her real name is Nguyen Thi Sang.
Born into a poor family, Sang's father was both a gambler and drunkard. Sang's mother, a small business owner, burnt out because of economic losses, had no choice but to leave Sang to the care of her grandmother when she was only three-months old.
When she was 10 years old, her grandmother gave her up to the care of the abbot of the Am Hon Buddhist Temple in Bac Ninh Province due a fortune teller's prediction about Sang's future. Shortly afterward, the little girl became a novice nun and was given the Buddhist name Thich Dam Anh.
The poor temple where Anh found shelter was always short of food. On many nights, Anh had to eat the temple's salted eggplants on the sly and drink a lot of water before going to bed because she could not get to sleep on an empty stomach.
Perhaps Anh's obsession with starvation helped her fully empathize with the misfortune and suffering of the poor. One day, while kneeling before the Buddha statue, Anh vowed that she would dedicate her life to noble deeds by serving anyone in need.
The young novice nun began her dedication when she entered the age of 14. Anh asked for old clothes and blankets from benefactors and local people and donated them to orphanages and leper's hospitals.
Anh said, "I could only do more after I was appointed abbot of Phung Thanh Temple in 1973. Thanks to the prestige of being an abbot, I can appeal to benefactors and laymen and women in the region to join hands with me."
Every year, Anh organizes regular trips to old people's homes, orphanages and hospitals to give words of consolation, as well as to donate gifts of money and other kind to orphans, homeless old people, disabled soldiers and Agent Orange victims.
Anh recalled, "In 2005, during our visit to the Martyrs' Cemetery in Quang Tri Province, the poor living condition of the guards there haunted me. Most of them are war invalids or demobilized soldiers who live a lonely life in the cemetery to take care of it. Their jobs are cutting grass, watering plants and keeping the environment clean and hygienic. Despite the hard work, the guards are low-paid workers."
Anh said she could not keep back her tears when witnessing the plain meal of the guards, as they ate nothing but boiled water 'morning glory' with fish sauce.
When looking at the large heap of hay gathered in a corner of the cemetery, an idea splashed through Anh's mind, "Why not give cows to the guards? The guards won't have to burn the grass anymore because the cows will it. Breeding cows will be financially rewarding to the guards as they don't have to spend much money on the feed for cattle."
After returning to the temple from the trip, Anh raised a subscription to buy cattle and gave them to 72 guards in cemeteries in Quang Tri.
The guards held the dry and winkled hands of the old Buddhist nun to give thanks to her and promised that they would tend the cattle well. The money from the sale of the cattle would be used as starting funds for their small business in the future to escape poverty.
Anh said, "Once their living condition improves, the guards will wholeheartedly take care of the resting place of revolutionaries and soldiers who had sacrificed their lives to the cause of freedom and independence of the country, because they no longer have to worry about earning their daily bread."
In 2006, when the Chanchu typhoon devastated central provinces, Anh borrowed VND150 million ($8580) to help victims in Da Nang City.
In 2007, when the Peipah typhoon swept through the northern province of Bac Giang, despite being sick, Anh tried to get up to borrow VND200 million ($11,500) to buy food, blankets and medicine to donate to the people in the flood-stricken areas.
To repay the debts, apart from the money collected from Buddhists in the region, Anh makes soy jam and tea and cooks vegetarian foods for sale. Anh can annually produce some 2,000 liters of soy jam and five tons of jasmine and lotus tea.
Soy jam, jasmine and lotus tea and vegetarian foods of Phung Thanh temple are considered, by Hanoians, specialties of Hanoi. City residents vie with each other to buy them as special gifts for their relatives living in other parts of the country or even in foreign countries.
Every day, the old Buddhist nun gets up at 4 a.m. and works until 11 p.m. By saving every penny from selling every litter of soy jam and kilo of tea, Anh not only has enough money to spend on her charity activities but could also afford the restoration and embellishment of the old Phung Thanh Temple, located on 5,000 square meters of land, in 2000.
Anh said, "I don't have much time for daily rites, so I work and chant at the same time."
Devoting her whole life to charity, Thich Dam Anh has been awarded more than 300 certificates or merits. She keeps them all in an old wooden box.
In 2006, the Vietnam Red Cross proposed President Nguyen Minh Triet offer the third grade- Labor Medal to Anh, but she refused the honor at first.
Anh said, "I'm a Buddhist nun, and giving help to people in need is my responsibility. What I've done is simply in line with the Buddha's teachings on compassion."
Later on, she accepted the medal after the leaders from the Vietnamese Fatherland Front of Dong Da District and representatives of the Buddhist Church of Vietnam successfully convinced her to do so.