More holidaymakers turn to Zen tourism to release stress
by Ha Nguyen, VNS, April 17, 2009
Ho Chi Minh City, Vietnam -- Environmental project re-searcher Trinh Ngoc Hien looks healthier and has a lively gait after returning home from a weekend of relaxation and meditation (known as Zenrelax).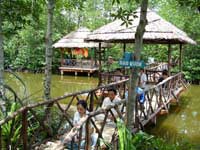 << All in the mind: Travellers practise meditation at Vam Sat-Can Gio nature park in HCM City. — File Photo
He is among a growing throng to join Buddhist monks at zen retreats throughout the country to learn how to breathe and release the stresses of daily life, often in natural surroundings.
"When I joined Zenrelax I found it unique," says Hien, 45, "and the fact it was located in HCM City's Vam Sat-Can Gio nature park made me feel healthy. All the worries of daily life and work were taken away.
"When you take the weekend course, it is important to strictly follow the teacher's guidelines," Hien says. "They are designed to help participants find their ego and bring their mind to a state of peace, to remove troubles from their thoughts and any stress they have."
Before practising Zenrelax, participants are offered a boat tour of the Vam Sat mangrove forests and a look at the Tang Bong Tower, a famous temple structure with wonderful views of the forest.
The boat will then take its perspiring passengers to bathe in a clean river where they can bob about, refresh and relax.
Nguyen Hung Dung, of HCM City, says he now practises deep breathing every day after retreating with Zenrelax.
"As a result, I have reduced my weight and I'm now quite healthy," he says. "I always have a fresh mind compared with before."
"Learning Zenrelax is not so difficult. Most important is to learn the right way to breathe.
"You don't need free time to practise breathing. You can do it at work, at home or before going to bed."
Superior monk Luong The Vy says there are different kinds of Zenrelax (thien buong thu), including relaxing while you are breathing, sitting and lying, which aim to help practitioners enjoy being leisurely and peaceful.
" After 10 to 15 minutes, your body and your mind will be treated because during that period new vitality from nature will pass into your body through the right breathing and relaxing," Vy says.
Businessman Hoang The Lien says before he did a Zenrelax programme, his business used to stress him out.
"Now I try to arrange my time to practise Zenrelax to release the stress and improve my health."
Lien says he takes any opportunity, such as short breaks during work and 10 minutes before going bed.
"Since joining the programme my health has much improved and, most importantly, I have a fresh mind, without any headaches, to deal with my business."
With Buddhism's 2,000 years of development and hundreds of beautiful pagodas and temples across the country, Viet Nam has great potential to take advantage of a swing to Zentourism.
Zen Buddhism, arrived in Viet Nam about AD580 but it was popularised and developed under the Ly-Tran-Trinh-Nguyen dynasties which had a big influence on the Vietnamese lifestyle and culture.
Viet Nam has about 120 zen monasteries and most rural and urban areas boast an old temple or a pagoda. Their hidden charms and wildness, along with the unique spirit and religious lifestyle of the Vietnamese, are a major lure for travellers.
Agents organising tours to discover Buddhist architecture and history enable tourists to research and participate in daily activities of monks and nuns and carry out zen arts such as flower arrangement, making tea, bonsai and culinary pursuits.
Tourists have visited pagodas and temples for years, as well as joining pilgrimages and festivals. Now they have the services of zen cafe and zen tea as well as zen parks and zen spas at hotels.
Taking a giant step further, the southern province of Ba Ria-Vung Tau has plans to build a VND30 billion culture-zentourism destination called the Chon Khong monastery.
Plans include a stone garden, a zen-yoga centre and areas for calligraphy, diet cooking lessons, local herb garden, a Buddha statue, a Buddha museum, and a place for tea making.
A manager of the Asia Sun Travel says zentourism is an important development strategy for her company.
"When living standards improve and modern life puts more pressure on people, they will try to find a peaceful place at a temple or pagoda to relax their body and their mind and discover special items of Buddha culture."
A Thai travel operator says he is investigating zen places in Viet Nam to expand his business.
"With similarities like Thailand, Viet Nam's zentourism will be rapidly developed," he says.