Vietnam Buddhists flee amid threats: monks
AFP, Sep 28, 2009
HANOI, Vietnam -- Followers of one of the world's most influential Buddhist monks said on Monday they had fled their Vietnamese monastery after threats from unidentified people armed with hammers and batons.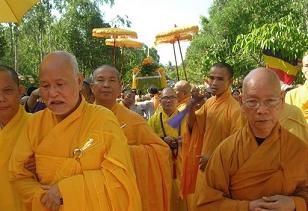 << A group of monks in Vietnam have fled from their monastery after threats from unidentified people
More than 200 nuns left Bat Nha monastery for a pagoda in Lam Dong province where about 100 monks were staying after leaving Bat Nha a day earlier, said Nguyen Phuoc Loc, who is assisting the evacuees.
All are devotees of Thich Nhat Hanh, a French-based Zen monk, peace activist and confidant of slain US civil rights leader Martin Luther King.
Problems for Hanh's followers at Bat Nha began about a year ago when the abbot there, Thich Duc Nghi, who is linked to the official Vietnam Buddhist Church, told them they were no longer welcome there.
"This morning we organised cars to move all the nuns" from the Bat Nha monastery to avoid a repeat of the intimidation which occurred on Sunday, Loc said.
More than 100 monks fled Bat Nha on Sunday after dozens of armed people arrived to threaten them, followers of Hanh said, adding they could not identify the group.
Local police, reached on Sunday, said there had been no incident at Bat Nha and a foreign ministry spokeswoman in Hanoi was not immediately able to comment.
All of Hanh's followers have now left the monastery, Loc said.
Their evacuation comes after months of tension at Bat Nha, in Vietnam's Central Highlands.
State-linked religious authorities had given Hanh's followers until September 2 to leave the monastery but they had refused to go.
The deadline passed with the monks still at the monastery, although many were without electricity and running water after power was cut, Hong Kong-based Thich Phap Kham, a founder of the Bat Nha community, said earlier.
A government spokesman earlier said Hanh's followers at Bat Nha had organised courses in Buddhism without permission and said power was cut because the monks had not paid their bills.
However, in August the government described the dispute at Bat Nha as an "internal" matter among the monks.
The monks have alleged they were assaulted about three months ago by a mob demanding they leave.
Kham said the central authorities did not want the group's following to spread.