Vietnamese Foreign Ministry denies report 400 people 'forced' to leave monastery
By B. Hang, Translated by Truc Thinh, Saigon-GPDaily, Oct 10, 2009
Hanoi, Vietnam -- Foreign Ministry spokesperson Nguyen Phuong Nga has rejected a recent report that the Government "forced" around 400 followers of the Plum Village Buddhist sect to leave Bat Nha monastery in Lam Dong Province.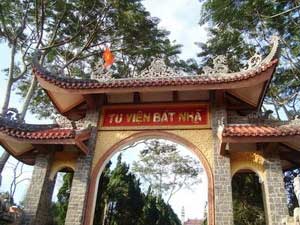 << Bat Nha Monastery in Lam Dong Province (Photo: Nhan Dan)
Speaking to the media in Hanoi on October 8, Ms. Nga said: "First of all, I would like to make it clear that no such thing occurred.
"The report that monks and nuns at the monastery clashed with the authorities, leaving several people wounded, and many were detained is totally false."
From May 2008 to September 2009, a large group of people gathered at Bat Nha Monastery to practice the Plum Village Zen tradition.
They had initially received permission to do so from the Venerable Thich Duc Nghi, the abbot of the monastery.
However, he later withdrew his permission, asked them to leave the monastery and return the place to him.
He repeatedly urged them to leave but they continued to stay, and this sparked off disagreement between the followers of Bat Nha Monastery and Plum Village.
The Vietnam Buddhist Sangha stepped in to resolve the problem, saying the Plum Village followers could stay on in the monastery for the three months of Summer Retreat (An Cu Kiet Ha) in the Buddhist tradition (May 8 - September 2, 2009), but have to move out later.

They, however, did not leave the monastery when the three-month period ended. Unhappy with this, a group of Bat Nha followers gathered at the monastery on September 27 to put pressure on the Plum Village followers to leave.
Local authorities have merely tried to maintain order and prevent clashes to safeguard people's lives and property. They also called on Bat Nha followers not to do anything to harm the dignity or persons of Plum Village followers.
On September 28 the Plum Village followers cleared out of the monastery, with some returning home or to their normal places of religious practice.
One hundred ninety four of them have taken up temporary residence at Phuoc Hue Pagoda. There is no such disturbance or threat towards these people at the pagoda as recently said in some pieces of news.