Thich Nhat Hanh accuses Vietnam of evicting his followers
Associated Press, 11 January 2010
Thich Nhat Hanh says mobs were sent in to clear monasteries and calls on regime to restore religious freedom
Paris, France -- A famous Zen master has accused Vietnam's communist government of hiring mobs to forcibly evict his Buddhist followers from two monasteries.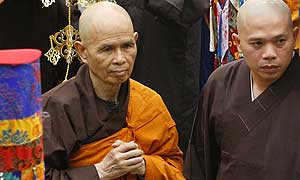 << Vietnamese Buddhist leader Thich Nhat Hanh, left, at a ceremony in Ho Chi Minh City in 2007. Photograph: AP
Thich Nhat Hanh, who helped popularise Buddhism in the west and has sold millions of books worldwide, has also called on Vietnam to restore religious freedom and respect human rights.
Nhat Hanh made the comments in a letter to his Vietnamese followers in late December after they were forced by a mob and government authorities to leave the Phuoc Hue temple in the southern province of Lam Dong.
"Our country does not yet have true religious freedom and the government tightly controls the Buddhist church machinery," Nhat Hanh wrote in the letter, a copy of which was obtained by the Associated Press.
"The Buddhist church is helpless, unable to protect its own children. This is a truth clearly seen by everyone."
The monks and nuns had sought refuge at Phuoc Hue after being forced from the nearby Bat Nha monastery on 27 September..
"In the case of Bat Nha and Phuoc Hue government officials hired the mobs and worked together with them," Nhat Hanh wrote in the letter, dated "the last days of 2009".
Vietnamese officials denied Nhat Hanh's claims. "This is a dispute between two Buddhist factions," said Nguyen Ngoc Dong, the vice-chairman of the Lam Dong provincial government. "We have tried our best to ensure safety and social order for the people involved."
Nhat Hanh's followers say they have been harassed because their teacher called on Vietnamese authorities to abolish government control of religion during a 2007 meeting with the country's president, Nguyen Minh Triet.
In his letter to his followers, Nhat Hanh said the mobs at Phuoc Hue and Bat Nha were hired by police and the Fatherland Front, a communist party organisation. At Phuoc Hue they were paid 200,000 Vietnamese dong (£7) a day, he wrote.
"Where did the money come from to pay these mobs? Was it tax money?" asked Nhat Hanh, 83, who was born in Vietnam but has lived in exile for more than four decades. He teaches at his Plum Village monastery in France.
The conflict between the government and Nhat Hanh marks a dramatic turnaround from 2005 when he returned to his homeland in what was seen as a step forward for religious freedom.
In spite of the Bat Nha conflict, Nhat Hanh said in his letter that he believed Vietnam would eventually open up its society. Young Vietnamese, he wrote, "realise that Vietnam needs more democracy, more citizen rights and more human rights".