Buddhist prayer woodblocks submitted for UNESCO recognition
VNA, Mar 30, 2010
BacGiang, Vietnam -- The northern province of BacGiang is working with several state agencies to put forward a case for the treasure of Buddhist prayer woodblocks in Vinh Nghiem Pagoda to be recognised by UNESCO as a World Documentary Heritage.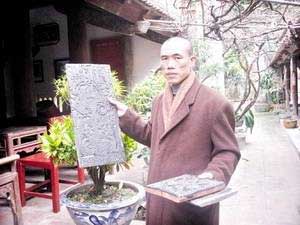 The Truc Lam Buddhist Zen prayer woodblocks in the pagoda are now seen as culturally priceless as the 3,050 separate woodblocks were carved during the late 19th century to early 20th century.
According to historians, they are the only Buddhist woodblocks of prayers belonging to Truc Lam Buddhist Zen, an outstanding Zen sect of Vietnamese Buddhism. They are also an extensive and diverse documentary heritage of the history of Buddhism and the religious thoughts and culture of the Truc Lam Buddhist Zen. They also document the history of woodblock carving and the printing industry as well as the biography and career of several eminent monks who contributed greatly to the development of the country's culture.
Apart from their historical value, the woodblocks are a valuable documentary source for studying the early days of the Vietnamese language and Demotic scripts.
According to the provincial Department of Culture, Sports and Tourism, the woodblocks, which were carved in Han (Chinese) or Demotic scripts on wooden boards, were recognised by the Ministry of Culture, Sports and Tourism as a national historical and cultural heritage – grade A in 1964.
Sitting on a site of over 10,000 sq.m in Tri Yen Commune, Yen Dung district, Vinh Nghiem Pagoda was turned into a Zen monastery by King-Monk Tran Nhan Tong, the founder of the Truc Lam Buddhist Zen, in the late 13th century.