Nun's devotion gives hope to orphan kids
VNS, Feb 22, 2011
Ben Tre, Vietnam -- Nearly 20 years have passed since the Pagoda's doors were opened to orphans under the guiding hand of nun Thich Ngo Mai, an orphan herself. Thu Trang report.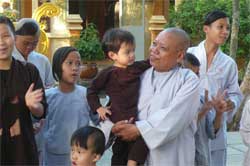 << Caring environment: Nun Thich Ngo Mai carries Minh Thong – the smallest boy at the pagoda. — VNS Photos Phuong Yen
As visitors enter the pagoda, a smiling three-year-old boy with round eyes welcomes visitors and sings, "Grandmother, I love you so much. Your hair is white like clouds... "
Minh Thong is one of the 23 orphans who are being raised at Phat Minh Pagoda in Giao Hoa Commune, Chau Thanh District in the southern province of Ben Tre.
During the past 18 years, nearly 50 orphans have been raised in the pagoda, which is chaired by nun Thich Ngo Mai.
Mai, whose real name is Nguyen Thi Lieu, was born in Sai Gon. Her father died when she was only three years old and she was later abandoned by her mother.
Mai, enrolled at Bo De School – a Buddhist school and eventually became a Buddhist nun at Anh Quang Pagoda in District 10.
Eighteen years ago, she moved to the Phat Minh Pagoda when the structure still lacked running water and electricity.
Nun Ngo Mai partnered with charitable organisations and began reaching out to street children. She decided to open the pagoda's doors to down and out juveniles.
To date, Mai has helped raise about 50 orphans. Some of the children's parents died, while others left home because of abuse or neglect.
Nearly 20 years have passed since she opened her doors and some of the children that she helped raise have married, while others are studying at vocational schools and some have become Buddhist nuns and monks.
The first child to be raised at the pagoda, whose religious name is Minh Chi and real name is Nguyen Dinh Tien, now is a student at the Land Forces Military Academy No 2. Currently, there are more than 20 children living at the pagoda and studying in nearby schools.
Two siblings Dieu Tam and Dieu Tuong, whose real names are Nguyen Thi Nguyen and Nguyen Thi Thanh Chi, are from Dac Lac Province. They are happy living in the pagoda.
Tam is three years older than Tuong, but they are both third graders at Giao Hoa Primary School.
"I want to become a doctor or a nun because I love Ngo Mai so much," said 10-year-old Dieu Tuong.
Three ethnic minorities siblings H'Nhien, H'Lin and H'Uk also love Ngo Mai and there other mothers here.
"Sometimes I return home to visit my family, but I want to live here forever," said H'Nhien.
Older children often take care of the younger ones during meals and studying hours. They consider each other to be family. In the pagoda they also have fathers and mothers who provide the pagoda with donations. The donors set up a volunteer team with 20 members, 15 women and five men. The team helps Ngo Mai care for the children.
Ngo Mai said that watching the children eat and play brings her joy.
"Bringing happiness to others makes me happy," she said.
Although she raises several children, Ngo Mai lives off limited means. Phat Minh Pagoda is located in a remote area so few people visit the grounds. Moreover, local residents are not rich so their donations are modest.
A Buddhist named Hue said that every month, donations to the pagoda amount to about VND1 million (US$50).
"Ngo Mai has had to ask for donations from everywhere to have money to raise the children," she said.
Ngo Mai also recites Buddhist scriptures and cooks vegetarian food at parties to earn money.
She has suffered from heart disease, which required her to have surgery, but this set back has not dampened her enthusiasm.
The nun is not afraid to ask for money if the pagoda runs out of rice or if diseases break out among the children.
Ngo Mai said she worries the most about outbreaks.
"Last year, was the hardest year so far at the pagoda," she said.
Within a few months, a boy developed appendicitis, another was hit by acute gastritis, and nearly 10 children were hospitalised with fever. The pagoda did not have money to pay the hospital fees, so the Buddhists had to borrow money to make ends meet.
Some people used to ask Ngo Mai if they could adopt her orphans, but she refused.
"I do not want the children to be abandoned again. Although I have to work hard, the children still eat and can go to school," she said.