Late Chief Monk of Thai Tradition for Malaysia cremated
The Buddhist Channel, May 10, 2011
Padang Sera, Kedah (Malaysia) -- The remains of the late Venerable Dr. Chao Khun Phra Thepmongkolayan, an influential Buddhist figure in Malaysia, Thailand and Singapore was cremated here on May 1, 2011.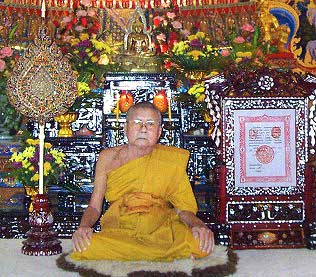 << The late Ven. Dr. Chao Khun Phra Thepmongkolayan (1919 - 2007)
A man of great wisdom and a monk who was well respected by the various Buddhist communities here, Chao Khun passed away peacefully at the age of 88 on February 21, 2007.
Apart from being abbot of Wat Boonyaram, Chao Khun Phra Thepmongkolayan was also the Malaysian Chief Monk of the Thai Tradition.
Born on June 17, 1919 in the state of Kedah, Chao Khun was the youngest son of Nai Lek and Nang Nim. He had three brothers and a sister. He was ordained as a monk under Phra Samuk Chum on 16 May, 1940 and was appointed chief abbot of Wat Boonyaram in 1943 owing to his outstanding knowledge of Buddhist philosophy.
Venerable Chao Khun devoted most of his life towards Buddhist work and adhered tireless to the teachings of Buddhism in its purest form. He was notable for propagating practical aspects of Buddhism.
The Late Venerable Chao Khun was a versatile speaker, teaching the Dhamma to his many disciples and lay people using Thai, Malay and Hokkien dialects, which are widely spoken in the northern parts of Malaysia. His abode, Wat Boonyaram became a source of spiritual inspiration and was a key Buddhist learning centre for Malaysian and Singaporean devotees.
Each year Venerable Dr. Chao Khun Phra Thepmongkolayan would arrange special trips for novices to be ordained at Wat Mahathat, Nakorn Si Thammarat Province in Thailand. The rationale for this action was that the newly ordained monks could further their development of insight in the Dhamma as well as understanding of Theravada Buddhism.
Venerable Dr. Chao Khun Phra Thepmongkolayan was closely associated with the late Venerable Chao Khun Phra Raj Panyarangsri of Wat Na Pradu and Venerable Chao Khun Phra Thepsiddhivides ( Chao Khun Suchin ) of Wat Ananda Metyarama. They often visited and invited each other to attend special Buddhist events or important religious occasion held at their respective temples.
The late Luang Phor Panya Nantha Bhikkhu of Wat Chol Prathan Rangsarit, a senior monk renowned for his expertise in the Dhamma, was another old friend of Chao Khun. Both masters were frequently seen engaging and discussing Dhamma to further each other's insight.
As a respected monk in the Buddhist communities in the northern regions of Malaysia, Chao Khun have left a spiritual vacuum that will be difficult to replace. May he attain the bliss of Nibbana.
(This report was partly contributed by Ven Dhammadinna)
Video
The Cremation of the late Vnerable Dr. Chao Khun Phra Thepmongkolayan, May 1, 2011