Float procession among the highlights for Wesak Day
By PRIYA MENON, The Star, May 14, 2011
SEVERAL activities have been planned for the Wesak Day celebration on Tuesday.
Kuala Lumpur, Malaysia -- The joint Wesak Celebrations Committee (JWCC) said the main highlights at the Buddhist Maha Vihara in Brickfields would be the visit by Deputy Prime Minister Tan Sri Muhyiddin Yassin at 9.30am as well as the float procession in the evening.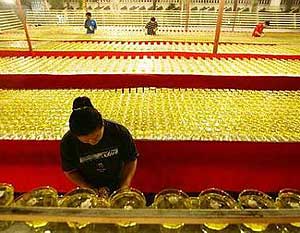 << Part of ritual: Volunteers preparing the lamps for Wesak Day celebration at the Buddhist Maha Vihara in Brickfields.
Minister in the Prime Minister's Department Tan Sri Dr Koh Tsu Koon will launch the procession at 6pm.
Koh is also expected to launch the celebration at the Malaysian Buddhist Association in Jalan Klang Lama at 11am on the same day.
About 25,000 devotees are expected to join in the colourful procession with 27 floats on its 12km journey.
Committee chairman Ng Hong Pau said the float procession would pass through Jalan Bukit Bintang and about 100,000 people, including locals and tourists, were expected to witness the event.
Ng also urged other Buddhist societies in Klang Valley with floats of their own to join in the procession.
The route will begin at the temple and head towards Jalan Sultan Abdul Samad, Jalan Tun Sambanthan, Jalan Petaling, Jalan Yap Ah Loy, Jalan Hang Lekiu, Jalan Gereja, Jalan Raja Chulan, Jalan Sultan Ismail, Jalan Bukit Bintang, Jalan Pudu, Jalan Tun Tan Cheng Lock, Jalan Tun Sambanthan, Jalan Sultan Abdul Samad and back to the temple.
Meanwhile, on the eve of Wesak, the Sri Lanka Buddhist Temple in Sentul will also be holding a float procession.
They will follow the concept of "Bodh Gaya", the place where Buddha attained enlightenment.
The 6km route along Sentul streets will be launched by Tanjung Malim MP Datuk Seri Ong Ka Chuan at 7.30pm as well as the High Commissioner of Sri Lanka Dr D.D. Ranasinghe and also his deputy major-general Udaya Perera.
Devotees will also be blessed with holy water and treated to free food and drinks at the Sri Lanka Buddhist temple.
A blood donation campaign will also be held and Dhamma books will be distributed at the temple grounds later in the day.
Ng said they were also looking for contributions for the Maha Sanghika Dana that is held annually for about 100 monks from the Mahayana, Theravada and Vajirayana Buddhist sects.
This year's dana will be held at the Malaysian Buddhist Association (Selangor/Kuala Lumpur branch) premises located at Wisma Buddhist, 113, Batu 3 1/4, Jalan Klang Lama, Kuala Lumpur on June 4.
Those interested in donating can send a cheque in the name of the Joint Wesak Celebrations Committee, care of Buddhist Maha Vihara, 123, Jalan Berhala, Brickfields, 50470, Kuala Lumpur or call Ng at 012-238 9161.