Buddhist groups seek help from vigilantes to disrobe ring members
By R.S.N. MURALI, The Star, June 30, 2011
MALACCA, Malaysia -- Several Buddhist groups in Kuala Lumpur and Penang have sought the help of the "monk police" here to help eradicate bogus monks in their areas.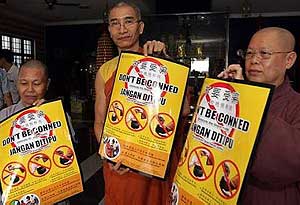 << Don't be conned: Sangha Sanctity Protection Centre chairman Seek Kai Lun (centre), Seek Lee Terk (right) and Seck Kwan Si (left) showing posters that will be displayed in Malacca to warn the public against bogus monks.
The Sangha Sanctity Protection Centre, which set up the "monk police", is now preparing to send over a team of five volunteers to carry out surveillance in both these states.
"We have been receiving calls from other Buddhist organisations in the country to aid them in thwarting the activities of such monks.
"A plan of action is being prepared to disrobe these bogus monks preying on innocent devotees," centre vice-chairman Ronald Gan Yong Hoe told The Star yesterday.
Gan said the team had been trained to identify and disrobe these bogus monks who would then be deported back to their native countries.
"We are ready to provide our expertise," he said, adding that the team would also be reinforced with another unit should the need arise or if there was a setback.
The centre had set up its own 10-man vigilante group on the belief that an organised syndicate was behind the culprits who walked around in saffron robes in the city here and took advantage of the public's generosity.
These "monks" would hand out amulets which they claimed have spiritual powers to bestow prosperity and health on those making donations.
A preliminary investigation conducted by the centre found that the bogus monks travelled to Malaysia from China and operated for a month before heading back to their homeland.
One bogus monk nabbed by the centre confessed that his group could earn up to RM9,000 from a month's stay here.
Gan said the centre was also anticipating more calls from Buddhist groups in other states.
"We are in the midst of recruiting more members to join our vigilante group in an all-out war to stop these monks," he said.
The centre also distributed pamphlets to create awareness among the public to be wary of these monks.