Ajahn Chah Remembrance Day - 17 & 18 December 2011
The Buddhist Channel, Dec 15, 2011
Petaling Jaya, Malaysia -- The Ajahn Chah Remembrance Day (ACRD) is a special day devoted to one of the great contemporary Buddhist monks in Thailand, Venerable Ajahn Chah who is also known as Ajahn Chah Subhaddo.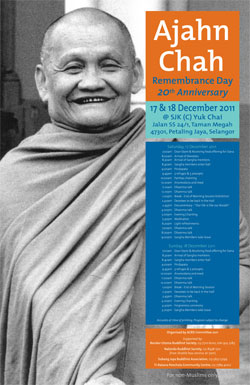 He established the first monastery in Thailand to be run by and for English-speaking monks, Wat Pah Nanachat ('International Forest Monastery') which Venerable Sumedho assisted in the setting up as the first abbot. Venerable Ajahn Chah is especially revered for his contribution and dedication to the establishment of the practice of the Thai Forest Tradition in Buddhism outside of Thailand.
This year's event, which is the third one to be held in Malaysia, is especially significant as it marks the 20th anniversary of this great monk's passing. The two-day event on the 17th & 18th of December 2011, will be held at the SJK (C) Yuk Chai (Taman Megah) school hall. Monks from the UK, Canada, Australia, New Zealand, Thailand and Malaysia will be attending this event.
"When Ajahn Chah sent me to England to establish the first branch monastery there, I had a lot of anxiety. I told him about my doubts of surviving in England as an alms mendicant.

Ajahn Chah said, "You mean there are no kind people in England?" I replied, "I am sure there are." Then he said, "Go! Go there!"

He didn't say "Buddhist". He said "kind people". And that struck me. I have a much more cynical attitude about the nature of humanity. My attitude is that we are basically selfish. Ajahn Chah's attitude is that we are basically good. That felt to me like a better way of viewing humanity.

Now, when I reflect on my 33 years of living in England-- teaching meditation, establishing monasteries, ordaining and training monks and nuns there--and how much support we have received over the years, out of the good heartedness and generosity of people there, I feel a very deep sense of gratitude."

~ Venerable Ajahn Sumedho, at the Ajahn Chah Remembrance Day, January 2010, Kuala Lumpur
Born on 17 June 1918 near Ubon Ratchathani, northeast Thailand, Ajahn Chah was instrumental in establishing the Thai Forest Tradition in Buddhism in the West and was an influential teacher of the Buddhadharma.
He became a wandering ascetic after the death of his father, walking across Thailand while taking teachings at various monasteries. By also spending time in jungles infested with tigers and cobras, caves and cremation grounds, he developed a unique style of meditation by reflecting on death to comprehend the true meaning of life.
The Thai Forest Tradition is one branch of the Theravada Buddhist tradition. Commonly practised in Thailand, Burma and Sri Lanka, one of the distinguishing characteristics of the Theravada Buddhist tradition is its strict adherence to the original teachings and rule of monastic discipline laid down by the Buddha.
The Forest Tradition emphasizes very strongly on meditative practice and the realization of enlightenment as the focus of monastic life. A day in the life of a forest monk involves constant practice of the Buddha's path of contemplative insight, which includes living a life of discipline, renunciation and meditation. It is through this process that the forest monks can understand the inner truth and peace as taught by the Buddha. The extensive 227 rules of conduct, or precepts, must be strictly adhered to, such as consuming food between dawn and noon; not handling money; practice of celibacy. The forest monks commonly engage in the practice of "thudong" which is wandering on foot in search of solitary places, sleeping wherever is available and eating only whatever is offered by laypeople along the way.
---
Ajahn Chah's Remembrance Day Webcast (Dec 17& 18, 2011)
http://www.justin.tv/ajahnchahrd
---
Laypeople wonder why forest monks undergo such a strict and disciplined regime that entails living a life of absolute austerity. The Buddha believed that living in this manner allows forest monks to simplify and refine the mind. Refinement allows them to explore and understand the fundamental causes of suffering within the human psyche and ultimately cultivate a path that leads toward freedom from suffering and supreme happiness.
The Ajahn Chah Remembrance Day seeks to provide the public with guidance by the visiting monks on how this can possibly be achieved through the teachings of the Buddha and Ajahn Chah. It is especially relevant since we live in a day in age where our lives are full of stress, pressure and fear of uncertainties.
Ajahn Chah once said:
"The purpose of the practice, then, is to seek inwardly, searching and investigating until you reach the original mind. The original mind is also known as the pure mind."

~ "The Path to Peace" by Ajahn Chah
Free shuttle bus service will be provided at Nalanda Buddhist Society. The schedule is as follows:
Nalanda to Yuk Chai: depart from Nalanda at 7am on 17 & 18 December (Saturday & Sunday).
Yuk Chai to Nalanda: depart from Yuk Chai to Nalanda at 9pm on 17 December (Saturday) and 5pm on 18 December (Sunday).
For free shuttle bus service, please register with:
Sis. Hui Shien (Mobile: 012-954 8649, Email: hssee@nalanda.org.my) or
Sis. Sook Fen (Mobile: 012-221 9622, Email: sfyee@nalanda.org.my).