Devotees mark Wesak Day with offerings and float processions
The Star, May 6, 2012
KUALA LUMPUR, Malaysia -- Buddhists throughout the country marked Wesak Day by thronging temples and offering prayers, as well as with colourful float processions.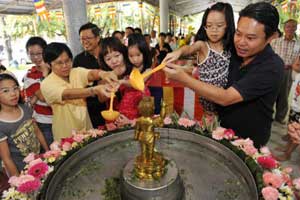 << Act of faith: Devotees bathing the young Prince Siddhartha's image with floral scented water at the Hong Hock See Temple in Penang.
Ceremonies included the chanting of verses, blessing and sprinkling of holy water by monks, dana (offering of food to monks and nuns) and also the bathing of young Prince Siddhartha's image.
In PENANG, the Mahindrama Buddhist temple in Kampar Road was a hive of activity as devotees brought milk to be offered at the temple's Bodhi tree.
"Buddha is in fact a supreme being and not to be mistaken for God. When he attained enlightenment (nirvana), the beams of light were said to be seen by the blind and also those in hell," said temple management committee chairman Kung Kok Chye.
Chief Monk Ven Indaratana Maha Thera led devotees in a meditation for 15 minutes starting at 9am.
This was to observe the "Metta Round the World" initiative for world peace, harmony and stability.
A similar event was also held at the Malaysian Buddhist Association in Burmah Road.
At the Kek Lok Si temple, visitors from the Netherlands, Ted van der Linden, a software engineer, and his wife Jessica, both 32, were seen bathing the young Prince Siddhartha's image with floral scented water.
"We were married on April 20 and we're on our honeymoon now. There are so many things to observe here the people, the culture, the food and we don't think there is any other country as unique as Malaysia," said Jessica, a legal adviser.
Wat Chaiya Mangalaram Thai Buddhist temple chief monk Phra Kru Phothitummawat @ Archan Nui led hundreds of devotees in the observance of the eight precepts and the Buddha puja.
He is also the founder of Phra Palad Nui in Scotland Road, where devotees and monks lit up more than 4,500 pineapple lamps.
In KUALA LUMPUR, the Buddhist Maha Vihara temple in Brickfields saw a large crowd with joss sticks praying while others brought flowers.
Among them was Briton Gerry Long, 73, a Buddhist who is here under the Malaysia My Second Home programme.
Accounts officer M. Ambiga, 47, her husband M. Raju, 47, and two children Saanjeev Raj, 17 and Tora Raj, 12, were each seen holding a bunch of daisies. "We came here to present flowers to Buddha," said Ambiga, who was also accompanied by her cousin Jai Ganesh, 17.
Wesak Day is held to commemorate the birth, enlightenment (nirvana) and death (parinirvana) of Lord Buddha. The year 2012 marks the 2,556th Buddha Era.