Chief monk survives ouster attempt
by Leven Woon, Free Malaysia Today, December 2, 2012
Ven. K Sri Dhammaratana found support from among the Buddhist temple committee members to defeat resolutions to remove him as the chief monk.
KUALA LUMPUR, Malayssia -- An attempt by several disgruntled members of the Sasana Abhiwurdi Wardhana Society to remove their chief monk failed today after they were defeated in their own extraordinary general meeting.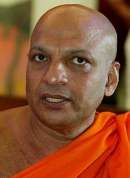 The disgruntled members had called for the EGM to pass resolutions to remove Ven. K Sri Dhammaratana from being the chief monk of the Buddhist Maha Vihara temple in Brickfields, and to ask him to leave the temple premises within seven days.
The Sasana Abhiwurdi Wardhana Society manages the temple and had obtained a court order to hold the EGM today.
The three-hour meeting however ended with a dramatic twist as 76 of the temple management committee members voted against proceeding with the meeting to discuss the resolutions, with only eight voting in favour.
Dhammaratana has come under fire for wearing a suit – and not his robe – when attending the conferment ceremony of his Datukship title in 2010. Buddhists have the general belief that a monk should never don the layman's attire unless he resumes a secular life.
Some members of temple management committees also claimed that Dhammaratana have "misbehaved" in several circumstances and thus should be removed.
As the committee's constitution does not allow discussions of chief monk's removal in its annual assembly, the disgruntled members obtained the court order in October to conduct the EGM.
"Should the chief monk continue to stay, the other monks residing in the temple must think it is okay to behave inappropriately in public," they noted in the statement for the resolutions.
However, other members of the society who supported the chief monk said the group was merely finding faults to remove Dhammaratana who was installed in 2006.
Speaking to reporters after EGM today, the temple management committee president Leslie J Tilak said the committee decided that it was best for them to hold a dialogue instead of voting for the resolutions to remove the chief monk.
He claimed that some members of disgruntled group have changed their mind to support the monk at the eleventh hour.
Meanwhile, Dhammaratana praised the members for using the Buddha teaching to act wisely in the meeting.
He urged everyone to work together after this instead of criticising each other.