Buddha Bar renamed, its owner apologises for controversy
by Amy Dangin, Borneo Post, June 20, 2013
KOTA KINABALU, Sabah (Malaysia) -- The Buddha Bar Sabah, which was opened recently, was forced to have its controversial name changed after the Young Buddhist Association of Malaysia (YBAM) urged the City Hall to revoke its licence.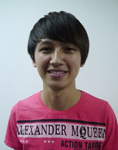 << Budda Bar Sabah (now called Peacock Garden) owner, Ethan Chung
MCA Publicity Bureau chief Datuk Heng Seai Kie supported the Association's call as the choice of name for the club where alcoholic drinks are served was deemed to be "blasphemous against the holy Buddha".
Its young owner, Ethan Chung, had since renamed the establishment to 'Peacock Garden' on June 17 and apologised for the controversial name that he initially chose.
"I have chosen to respect the City Hall's order and chosen 'Peacock Garden' as the new name for our establishment, hoping that it would re-establish peaceful harmony among the community we operate with.
"There was no intention of offending anyone when we chose that name in the first place. More importantly, we practised what we thought would emulate Buddha's honoured teachings whereby we dedicate Wednesdays to children with disabilities and orphans by donating 10 per cent of Wednesday's profits to selected charitable organisations.
"We also reserve four employment positions for people with disabilities and four positions for weekend part-time jobs, especially for students.
"These were some of the things that we did at the Buddha Bar and will continue to do after we re-open the establishment as the Peacock Garden," Chung said.
Having lost some of its employees following the controversy, Peacock Garden is now hiring, opening its doors for walk-in interviews from Monday to Friday, 5pm to 6pm.
On June 18, Heng issued a statement condemning the outlet for using 'Buddha' in its name, calling it an insult to the Buddhist community in Malaysia.
"As a devout Buddhist, the name 'Buddha Bar' is not only disrespectful to the revered Buddha but even more detrimental to the holiness of Buddhism.
"By putting 'Buddha' in the bar's title, they had placed Buddha next to the unhealthy substance, alcohol, linking the two as equals. Drinking alcohol is not only a violation of the Five Precepts of Buddhism, it also goes against five thousand years of Buddhist culture," she said in a statement.
"I urge the Kota Kinabalu City Hall to take prompt action to withdraw the establishment's operating permit," Heng added.
However, her outrage received mixed reactions.
One commenter wrote, "Buddha Bars exist all over the world. And again…, only in Malaysia it will incur the wrath of a deity. There must be something else very wrong with the way Malaysia treats its religions, when it makes ALL gods so angry over minor, minor things."
Another wrote, "Leave them alone for God sake….why the politician always fuss something…there a lot of crimes need to be taking care of…Just do your bloody attention to more important things instead of creating unnecessary issue… People do charity…they have their own way…..It's not your family business…unless the person want to have under table share is it? Buddha Bar is proper name…Sushi Bar…Burger Bar….Do those politicians understand or not the meaning of Bar…"