Nalanda Buddhist Society opens JB outreach centre
By CHUAH BEE KIM, New Straits Times, July 30, 2013
WALK THE WALK: An organisation which believes in holistic education is doing its bit for underprivileged schoolchildren by offering free tuition classes
JOHOR BARU, Malaysia -- THE Nalanda experience has found its way to Johor with the opening of the Nalanda Education & Outreach (NEO) Centre in Taman Johor Jaya here recently.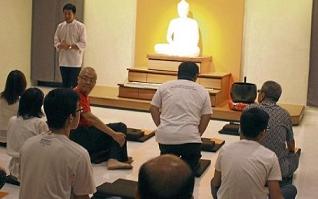 << Dr Tan Ho Soon gives dhamma talk to devotees at the shrine hall of the Nalanda Education & Outreach (right) in Taman Johor Jaya. Pix by Chuah Bee Kim
The event also coincides with the 10th anniversary of the Nalanda Buddhist Society founded in 2003 by Dr Tan Ho Soon.
NEO chairman David Yap said that the non-governmental organisation believes in giving knowledge and wisdom to achieve integral human development.
Yap said the centre is recruiting volunteers to tutor children in their school subjects.
"The children who can come here for tuition are from poor families regardless of race or religion," Yap said.
"At our centre in Taman Sri Serdang, Selangor, volunteers of different faiths tutor children from primary and secondary schools in various subjects for free," Yap said.
Tan, who was also present, said that the society had helped 1,200 students to-date.
"Nalanda introduces something new every two years. In 2005, we started the Nalanda Dharma School to provide knowledge, skills and values to teens aged 13 to 18.
"In 2007, the Nalanda Institute was established to offer courses on Buddhism and leadership training. More than 8,000 people have attended the free courses.
"Two years later, we opened the Nalanda Centre in Taman Sri Serdang, followed by the Pustaka Nalanda (Nalanda Library) in 2011.
"It is believed to be the only computerised Buddhist library where members can source books online.
"It has a collection of over 3,000 titles comprising Pali scriptures, Buddhist encyclopaedias and reference books," Tan said.
Nalanda has become one of several acknowledged centres of Buddhist education of the Theravada tradition in the country.
The NEO centre at 30, Jalan Dedap 26, Taman Johor Jaya, is open from 9am to 11am daily, with chanting sessions on Sunday mornings. For details, call 07-350-3870 or visit www.nalanda.org.my.
The two-storey venue offers accommodation to visiting monks, and has a library, shrine hall, meditation room and training rooms for volunteers.