Muslim, Buddhist leaders forge ties to promote interfaith relations
BY ELIZABETH ZACHARIAH, Malaysian Insider, August 15, 2013
Kuala Lumpur, Malaysia -- A Muslim politician and a local Buddhist group have taken the first step in fostering interfaith relations between the two religions.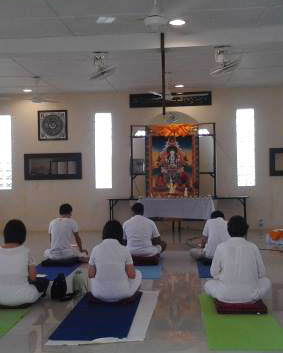 << Malaysian Muslims were upset that a prayer room (surau) of a holiday resort was used by Buddhists to conduct prayers and meditation.

The duo - Parit Buntar Member of Parliament Mujahid Yusof Rawa and a leader in the Buddhist Vajralink Movement, Sherab Wong - noted that to promote relations, individuals and associations must continue "healthy, positive and proactive" dialogue.
"Each religion must be proactive in ensuring their members understand the meaning of respect for each other and totally avoid extremist views which are of no benefit in a multiracial society," they said in a statement.
They pointed out that in recent times, interfaith relations have become challenging particularly when questions about sensitivities of either faiths were not addressed, adding that this would undermine the relations.
They referred to the surau issue in Kota Tinggi, Johor, as an example.
The manager of the resort had allowed a group of Singaporean Buddhists to use a surau at the premises for their meditation. The incident had caused an uproar among Muslims and the manager was detained by police on Sunday to assist in investigations.
"This happens when there is no sense of sensitivity among certain quarters which would result in heightened tension between the different religions," they said.
Both men asserted that the element of respect for one another has faded over time while the multiracial fabric of society continues to be threatened.
"What is worrying is that certain quarters are taking advantage of the matter to further incite this fragile situation by causing hatred between religions."
In an attempt to defuse the situation, the two leaders urged Malaysians to look at the Federal Constitution which states that Islam is the official religion of Malaysia but there is freedom of religion for other faiths.
They called on the authorities to act on those who purposely create hatred among citizens, stressing that they needed to be firm in their actions against those who deliberately hurt religious sensitivities, regardless of who they are.
"The police should be independent of any political influence, and work hard to eliminate the rising crime in our midst," they said.
"The past incidents were not real serious problems between two religions but made to appear as such by those who harbour ill motives for their own personal interest.
"We hope everyone can view the current issue with a matured, open mind and heart so that our thinking and actions are not influenced or tarnished by irresponsible parties," Mujahid and Wong said.
Mujahid is a chairperson of Southeast Asia Inter-religious Dialogue for Peace, which has links in Indonesia and Thailand.