In Muslim-majority Kelantan, Buddhist monks find refuge
By Zurairi AR, The Malay Mail, September 8, 2013
TUMPAT, Kelantan (Malaysia) -- Buddhist monks in saffron robes with their clean shaven heads and bare feet were once a rare sight in Kelantan despite the state's proximity to Thailand which is predominantly Buddhist.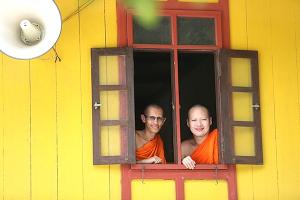 << Kunmien and Chielyeasoon peering through the window of the chief abbot's residence. - Pictures by Choo Choy May
Som Theap Chun, 33, told The Malay Mail Online of a time when Kelantan folks would eye the monks suspiciously as they made their daily trips beyond the walls of the temples, commonly known here by their Thai name - wat.
"It was as if they had never seen monks before. It was not like that outside Kelantan," said the soft-spoken Pasir Puteh native, who prefers to be called Kunmien.
Listening to Kunmien, it was hard to understand why the Kelantanese had difficulty acknowledging the minority group.
Aside from their robes, they looked just like any other Kelantanese youth of their age enjoying the breeze while sitting on weather-worn cement benches under a grand old tree.
One of the younger monks was fiddling with his smartphone - "We can only make calls with it," he explained with a cheeky grin - while Kunmien, in his robes and slightly tinted glasses, smiled from ear to ear.
Compared to Kelantanese Malays who make up around 95 per cent of the population in the state, there are only around 13,000 ethnic Thais in Kelantan according 2010 statistics.
Unlike the Muslim Malays, some Siamese - as they are often called - adhere to Buddhism but are also afforded Bumiputera status and speak the Malay language in addition to Thai.
There are over 100 Buddhist monks based in Kelantan, including the 10 in Wat Pikulthong in Kampung Terbak here, where Kunmien has stayed for the last 10 years.
In November 2008, Wat Pikulthong became the first temple in Kelantan to receive the symbolic Royal Kathin robes presented by Thailand's King Bhumibol Adulyadej to chief abbot Pra Vichan Vutikitun.
The ceremony is believed by Buddhists in neighbouring Thailand to be one of the most prestigious merit-making ceremonies, eligible only for selected temples with at least five monks in residence who are present during the Lent period.
Then-Kelantan Mentri Besar Datuk Nik Abdul Aziz Nik Mat attended the event to honour the community, but his appearance then and in subsequent ceremonies did not go without criticism.
The spiritual adviser of Islamist party PAS was accused of "selling out" his faith, especially with the construction of several Buddha statues during his time as mentri besar. Hardline Muslims in his party saw the statues as idols.
Most Siamese in Kelantan, however, praised Nik Aziz's decisive attempt at reconciliation, which they said has prevented the community from being further alienated.
Kunmien explained that the cold treatment from the populace had all but stopped the moment Nik Aziz reached out his hand to the community.
"Now there are fewer stares... people are more friendly towards us," he said.
After all, the monks do not live a life of seclusion apart from the community. An average day for Kunmien during the Buddhist Lent period, called phansa here, usually starts before dawn at 5am, followed by opening the gates to the temple for adherents who donate food to the monks while they chant and meditate.
Together with other monks, he then makes his rounds bare-foot to Buddhist houses in the villages near the temple after daybreak to collect alms.
If he is not meditating, the rest of his day is spent taking care of the 54-year-old temple, which houses the iconic "Standing Buddha" statue.
Also called "Buddhalila" in Thai, the statue is over 60 metres high from its base, and took 10 years to finish.
Despite its serenity during the week, Wat Pikulthong remains popular during weekends and school holidays when Siamese children drop by to learn the Thai language, and also during the Loy Krathong festival which will be celebrated on November 17 this year.
There are no fewer than 23 Buddhist temples in Kelantan where Muslim Malays make up the majority of its over 1.5 million citizens.
The popular PAS, of which Nik Aziz is an influential leader, has ruled the state through two lengthy periods: from 1959 to 1977, and the current rule since 1990.
See more at: http://www.themalaymailonline.com/malaysia/article/in-muslim-majority-kelantan-buddhist-monks-find-refuge#sthash.amPpbCE1.dpuf