Sia Tze Jee Buddhist Temple abuzz with activities
By Chuah Bee Kim, The New Straits Times, 12 May 2014
JOHOR BARU. Johor (Malaysia) -- The Sia Tze Jee Buddhist Temple here have been abuzz with activities since 7am today.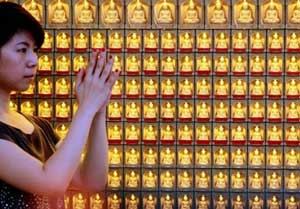 Charmaine Tan was among the devotees who is helping out with the preparation for Wesak Day, an annual celebration that commemorates the birth, enlightenment and death of Buddha. It is celebrated by Buddhists on Tuesday.
However, not all Buddhists celebrate the occasion.
The 26-year-old piano teacher said she was excited about the charity sale which was organised by the temple committee in conjunction with the celebration.
The fund from the charity sale will be used to provide free medical consultation for the public.
"Since we introduced the free medical consultation programme, many have come to the temple to seek treatment," she said.
The charity sale, from 8am to 2pm, will feature a variety of home-cooked meals prepared by volunteers.
Besides the charity sale, there will also be chanting sessions.
"I understand many devotees will be chanting for good health as having vibrant health is the most important thing in life," she said.
Her father, Tan Chew Peng, who is the committee chairman of the temple, was away getting more cushions for devotees who will be using that during the chanting session.
"The devotees will stand during chanting but they are also required to kneel at times in order to bow to the deities," she said.
"Last year, there were about 600 devotees. This year we are expecting more. That's why my father had to go out to look for more cushions in anticipation of tomorrow's turnout," she added.
In conjunction with the event, the temple also hosted a charity dinner for the underprivileged on Sunday.
The temple built nearly 60 years ago was originally at Jalan Trus here before moving to Jalan Tun Abdul Razak where the Danga City Mall now stands.
It is re-located to its current location at Jalan Chengai, Taman Melodies in 1998.
The Sia Tze Jee Buddhist Temple is one of the oldest in Johor Baru.