Temples prepare for Wesak
The New Straits Times, 12 May 2014
IPOH, Perak (Malaysia) -- PREPARATIONS are underway throughout the state's Buddhist temples ahead of tomorrow's Wesak Day celebration which commemorates the birth, enlightenment and death of the Buddha.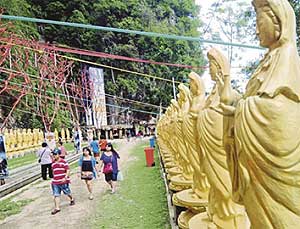 The highlight of the celebration will be at the Enlightened Heart Tibetan Buddhist temple in Tambun here, where the famous "thangka" sunning ritual is performed every Wesak Day.
Temple deputy abbot Michael Sum said more than 2,000 devotees are expected to attend the celebration, where they will unfold a giant canvas painting of the Buddha before exposing it to the sun's rays.
Traditional beliefs dictate that sunning the thangka will allow it to absorb the powers of the sun and promote peace, harmony, success and good health.
After the unfolding, devotees will walk under the thangka to receive good luck for the year.
Stretching to a gargantuan size of 60m by 12m, the 22-year-old work of art was painted by one of the temple's devotees, taking a full month to complete.
"The thangka is our temple's speciality, and attracts devotees from all over the region. At the moment, I believe that it is the largest painting of its kind in Malaysia.
"Every year, our disciples touch up the painting to ensure that it remains in pristine condition," he said.
In preparation for the celebration, Sum said the temple held special prayers for a week in accordance with the Buddhist tradition.
He added that lamps had been lighted in the temple to bring good luck to devotees who are going through bad times in their lives.
"Volunteers have also been taking turns to clean the temple in readiness for the festival," he added.
Preparations were also in full swing at the Kwan Yin Tong Cave temple in Gunung Rapat with volunteers cleaning the temple and Kuan Yin (Goddess of Mercy) statues.