Buddhists flock to Miri Buddhist Society on Wesak Day
by Cindy Lai, The Borneo Post, May 14, 2014
MIRI, Sarawak (Malaysia) -- Hundreds of Buddhists gathered at Miri Buddhist Society for the Buddha bathing ceremony and to offer prayers to him on the morning of Wesak Day.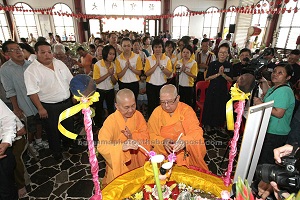 Master Si Hui Zhong led the devotees that included Communication Assistant Minister Datuk Lee Kim Shin, mayor Lawrence Lai, Temenggong Lee Sie Tong and Penghulu Yong Vui Seng in a prayer session and singing of 'Sam Bo' in praise of Gautama Buddha.
The devotees comprising young and old put their palms together to sing and pray. The ambience was peaceful, despite the huge crowd.
"Buddhism teaches morality and respect for each other which should not only be shown during the prayers but to each other on a daily basis. There is too much negativity in the world, thus we should learn to be nice to people, anytime, anywhere," Lee said in his speech.
He lauded the Miri Buddhists Society for their effort in nurturing young children to embrace good moral values to make them better persons.
To further support the society's activities, Lee announced a grant of RM20,000 for the society's Kindergarten Sunday Class.
Yong, who is also chairman of Miri Buddhist Society, revealed that following the completion of the new RM2-million temple recently, the society had ordered a new Buddha statue from Taiwan costing nearly RM70,000 to be placed there.
Meanwhile, four young devotees received a certificate each for their excellent performance in the recent Buddha Dharma examination.
The exam tests the devotees on their knowledge and understanding of the teachings of Buddha.