First Buddhist Nuns' Novitiate Program held at Subang Jaya Buddhist Association
The Buddhist Channel, Nov 10, 2014
Subang Jaya, Malaysia -- The first Buddhist Nuns' Novitiate Programme in the Theravada Tradition will be held from November 7 - 16 2014 at the Subang Jaya Buddhist Association. This is the first time a programme such as this is held in Malaysia.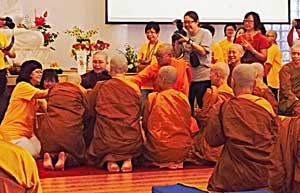 << Venerable Hasapanna Bhikkhuni from Dhammasara Buddhist Nuns' Monastery, giving the samaneris their monastic names while handling them their alms bowls.
Co-organised with the Bodhinyana International Foundation, Australia and the Centre of Mindfulness Limited, Hong Kong, the event which began on November 7 was led by Samaneri preceptor Bhikkhuni Hasapanna, co-Abbess of Dhammasara Monastery (based in Westermn Australia) and Venerable Dhammapala, Abbot of the Centre of Mindfulnesss based in Hong Kong with Ajahn Brahm present as the Spiritual Director. Venerables B. Saranankara Nayaka Maha Thera and Dr Dhammapala Thera also presided over the ceremony, together with other sangha members.
The initiation event commenced on Sunday, November 9 with the "Pabbajja" or "Going Forth Ceremony". About 30 novices had their heads shaved, put on robes for the first time and provided with their own alms bowl. During the Pabbajja, the novices recited the 10 precepts, thus begining their spiritual journey as "samaneri", "reborn" individuals devoted to the study and cultivation of the Dhamma.
Programme highlights throughout their retreat includes meditation, sutta studies (in Pali), chanting, daily Dhamma discussions and introduction to the Vinaya.
After 9 days of training and practice, on the morning of November 16, the samaneris will be carrying their alms bowls and go on a "Pindapata" (alms-gathering) through the streets of Subang Jaya. Like Bhikkhunis since the time of the Buddha, receiving "dana" from lay devotees with their alm bowls in hand should be an unforgettable experience for the participants.
This Bhikkunis Novitiate Program is sponsored by the Subang Jaya Buddhist Association and the Hong Kong Society of Dhamma Supporters. Donations towards the costs of the programme are welcomed.