Buddhist society holds special camp
by Adrian Chan, The Star, December 23, 2014
Serdang, Malaysia -- THE school holidays are nearly coming to a close and many children will be suffering from an overdose of cartoons and video games.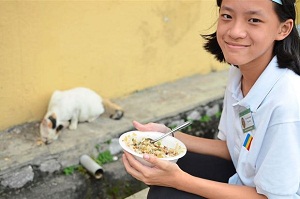 << Eer Shian Huey, 12 feeding a stray cat during the camp's 'Feed the Strays' segment.
"We want children to have holidays which are fulfilling and wholesome," said Nalanda Buddhist Society founder Dr Tan Ho Soon.
The society has organised a series of activities for children during the holidays, including a three-day/two-night camp for 22 children between the ages of nine and 12.
Participants engaged in team-based activities such as Captain Ball, Keep the Balloon Afloat and Feeding the Strays.
"We wish to teach them the values of harmony, friendship and compassion," said Dr Tan.
According to him this can only be achieved when the children are given the chance to stay and learn together at a holiday camp.
During the second day, the children spent half a day in Putrajaya Wetlands Park.
Apart from meditating in the park's open plains, participants were brought closer to nature through a session of bird watching.
"There were so many birds at the lake. I saw kingfishers, pelicans and even flamingos," said Lee Xiu Yi, 12 from SJK (C) Yoke Nam.
In the evening, the children sat down at Nalanda's shrine hall to learn dharma (the Buddha's teaching) from Nalanda Dharma School's director Sunanda Ong.
Ernest Yong Chow Sern, 11, said the most important lesson he learnt during camp was the Buddhist virtue of santi (peace or calm).
"I am very active at home. I like to run around all the time," confessed Chow Sern from SJK(C) Seri Saujana.
Vainavi Chandrakumar, 9, was grateful for the chance to heear stories of the Buddha's past lives.
"In each of his rebirths, he was a kind and compassionate person," said the SJK(C) Choong Wen pupil.
The camp's facilitators, Ong Ching Saun, 33 and Ong Huey Fang, 28, said they enjoyed seeing the children having fun.
Nalanda Dharma School holds classes every Sunday at Serdang and Happy Garden, Kuala Lumpur and is a non-profit organisation.