Buddhist bookstore Sukhi Hotu to close
by Adrian Chan, The Star, 26 April 2016
Petaling Jaya, Malaysia -- A BUDDHIST bookstore in Petaling Jaya will be closing its doors at the end of this month, after having served the community for nearly two decades.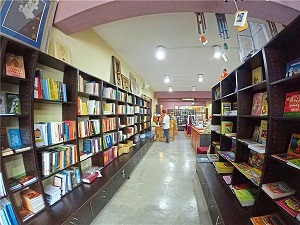 << Sukhi Hotu was once a treasure trove for avid Buddhist readers with its more than 2,000 individual titles.
Sukhi Hotu, which was named after the ancient Pali greeting "may you be well and happy", caters specifically to English-readers in the local Buddhist community.
It first opened its doors in Taman Mayang in 1997 and subsequently moved to Ara Damansara.
At its peak, the store offered more than 2,000 unique titles, a treasure trove for those seeking books on Buddhism written in English.
However, declining sales since 2014 has made operations a growing concern.
"In a week, there may be two or three days in which there are no walk-in customers," said general manager Aaron Lee, 39.
He explained that more than 70% of the Buddhist community here were those who speak Chinese.
"Of the remaining who are English-speaking, those who have the habit of reading are even fewer," he said.
But the news was not all gloomy, said the former surveyor who has been working with the book store for the past 10 years.
Sukhi Hotu's shop in Air Itam, Penang, which opened a year after the one in Petaling Jaya, is still doing reasonably well.
Lee pointed out that its location, next to the famous Taman Emas Kopitiam, was patronised by tourists and locals alike.
Starting next month, the Penang shop will be the sole retail store for Sukhi Hotu.
"It is a shame for Sukhi Hotu to close down," said Lee.
He said the bookstore held a full set of Pali Text Society's English translation of the Buddhist scriptures, along with its commentaries, the sole company in Malaysia to do so.
The store also sells a series of meditation cushions that they have designed themselves and are made locally.
Despite closing down its retail shop in Petaling Jaya, the company will still be accepting mail orders.
"The inventory here will be kept in storage.
"Now that the physical shop is closed, I can focus my resources on moving everything online," said Lee.
The shop's business model will be changed entirely, he said, elaborating that it would focus on selling its products via its website.
"Right now, we need support from the community.
"If sales builds up, then maybe we can partner with a logistics company to commit to making daily deliveries," he said.
Lee said Sukhi Hotu was trying its best to catch up to the times.
"In this day and age, we need to connect with the people more pro-actively," he said.
Despite going through a transitional phase, Lee promised that the shop would hold on to its values.
"Our aim is still to complement the spiritual lifestyle of the Buddhist community, to serve the Buddhist sangha and promote its teachings," he said.
The Petaling Jaya shop will officially cease operations on May 1.
The shop is located at Pusat Perdagangan Dana 1 in Ara Damansara or call 03-7842 6828.
Alternatively, visit www.sukhihotu.com