Gold leaves for statues
By Majorie Chiew, The Star, 17 May 2016
Petaling Jaya, Malaysia -- SOME 200 devotees at the Thai Buddhist Chetawan Temple in Petaling Jaya, held a ceremony to apply gold leaves on five Buddha statues at the chief abbot's premises.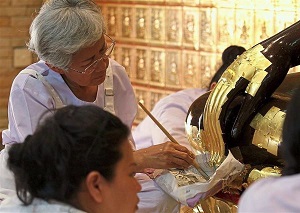 << Thai experts ensuring that the gold leaves stick neatly on the Buddha statue.
The event, to give the statues a gilded makeover, was also participated by 42 monks from Laos, Thailand and Malaysia.
The application of gold leaves ceremony was initiated by the temple's chief abbot Phra Sophorncariyaporn, who is also the chief monk of Selangor (Thai sect).
Also invited to participate in the ceremony were Kedah & Perlis (Thai sect) deputy chief monk and chief abbot of Wat Nikhrodharam, Alor Setar, Kedah, Phra Nikhrodhammathada and deputy chief monk of Sik district, Kedah, Phra Khru Viriyakphatanakkit,.
Devotees were invited to buy and offer the gold leaves to be applied on Buddha statue made of brass and copper.
The top 18 donors (each sponsoring RM888 worth of gold leaves) were given the privilege of symbolically sticking one gold leaf each on the Buddha statue with blessings from the monks.
The thin foil-like gold leaves were purchased in bulk from Bangkok, Thailand.
It took 24 hours to finish applying the gold leaves on the main statue, which is 2.4m high and about 50 years old.
Two coats of primer paint, red then brown, were applied on the statues before they were gilded with gold leaves.
"The ceremony to cover the Buddha statue with gold leaves is to honour Buddha's teachings. Buddhists regard this as an act of loving kindness. It is also an act to transfer good merits.
"This is the second time such a ceremony has been conducted in 50 years," said Deenies Tang, 54, a devotee and one of the main sponsors of gold leaves.
Dr Phra Maha Surasak Pachantakseno from Maha Chulalongkorn University also gave a sermon on the merit of sticking gold leaves.
The next day, Phra Nikhrodhammathada was given the honour as guest chief abbot to perform the ceremony to stick gold leaves on top of the Buddha's head.
In conjunction with Wesak Day on Saturday, the temple has a three-day programme beginning May 20.
On Friday and Saturday (Wesak Day), the temple will be open from 6.30am until 1am for various religious activities.
Devotees can also participate in the offering of gold leaves for a set of seven new Buddha statues this Wesak Day.
Gold leaves can be purchased at RM10 for 10 pieces.
There will also be a two-day food fair on Friday and Saturday from 8.30am with items such as vegetarian mee, Thai laksa, kaoyam (kerabu rice), kuih, ruam mit (Thai dessert of tapioca balls and corn in coconut milk), mango rice, coconut ice cream and juice drinks for sale.
Coupons are available at RM10 per booklet from the temple.
On Sunday from 8am to 10pm, there will be a Special Wesak Blessing by the temple's monks and also senior monks from Thailand.
At 11am, there will be a tark bart (similar to dana offering) ceremony to offer food to the monks.
At 5.30pm, there is a phapa (robes) offering and presentation of saffron robes at Mondope Shrine.
The offering of the phapa robes is said to remind devotees of the basic teachings of Buddha such as mindfulness, giving and sharing.
At 9.30pm, there will be chariot and candlelight procession.
A statue of Lord Buddha will be placed on a chariot for the procession around the temple compound.