Hong Kong star and Tibetan abbot lend a hand to create sand art
BY MANJIT KAUR, The Star, June 6, 2005
PENANG, Malaysia -- Hong Kong celebrity Eric Tsang and a Tibetan monk gave a helping hand to create the world's largest sand art here. Titled The World Peace Sand Art of Eight Auspicious Signs, the work of art would use eight tonnes of sand in six colours.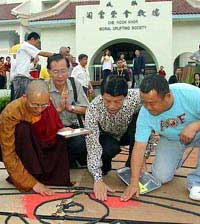 << DOING THEIR BIT: (From left) Lho Bhongtul, Dr Teng and Tsang spreading coloured sand on the sand art at the Che Hoon Khor Moral Uplifting Society premises in Penang yesterday.
The sand art, measuring 16m by 24m and almost the size of five badminton courts, depicts the auspicious signs as the parasol, fish, vase, conch, victory banner, glorious knot, lotus and wheel.
A drizzle at the event yesterday did not damper the spirit of some 70 volunteers and 30 monks who will continue with the task of spreading the coloured sand to complete the sand art by 9am today.
Tsang took part in the sand-filling ceremony that was led by Tibet's Lho Long Kar monastery abbot Lho Bhongtul Rinpoche at the Che Hoon Khor Moral Uplifting Society premises in Macalister Road here.
Others who took part were state executive councillor Datuk Dr Teng Hock Nan and several monks. The abbot recited verses to bless the sand art before Tsang, Dr Teng and others spread coloured sand on the auspicious symbols.
Event organiser CreatiVision D.C. Sdn Bhd managing director Adelyn Lim said they would work through the night to finish the task, adding that representatives from the Guinness Book of Records would verify the record at 5.45pm today.
?At 6pm, the launching of the Lamp Lighting Blessing ceremony will take place,? she said, adding that the sand art would be dismantled after 11pm and the holy sand distributed to the crowd. The sand art project was organised in conjunction with the lighting ceremony of the Journey of Mani 9 ? The Light of Lapis Lazuli, the Grand Blessing Ceremony of Eight Different Aspects of Medicine Buddha.
The artwork is to inspire people to embrace compassion, respect life and to live in harmony with each other.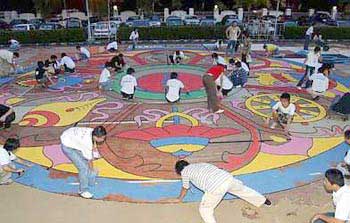 ALMOST THERE: >>
Volunteers spreading coloured sand on the sand art in Penang yesterday.
They hope to finish the sand art, which is said to be the biggest in the world, by 9am today.
The public is invited to light 20,000 oil lamps ? 10,000 lamps for their well-being and 10,000 for victims of the Dec 26 tsunami ? from 6.30pm today. Registration starts at 11am.
The organisers hope to raise over RM400,000 for the Malaysian Buddhist Association's Education and Charity Building Fund, the Lho Long Kar Monastery's Hospital and Research Centre Construction Fund and the Penang Caring Dialysis Society.