Milestone for Buddhist mission
By Yee Xiang Yun, The Star, 24 September 2016
JOHOR BARU, Malaysia -- Buddhist associations should remain united to spread the right teachings of Buddha, said Minister in the Prime Minister's Department Datuk Seri Dr Wee Ka Siong.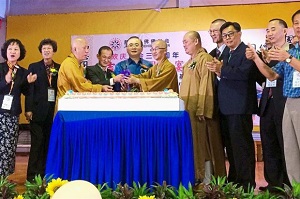 Dr Wee said he was made to understand some Buddhist associations were organised programmes that did not reflect well the religion.
He said a monk from the Johor Buddhist Mission (JBM) told him that some individuals who left the mission had began spreading slanted teachings outside.
"This should not be the way. Even if these individuals decide to leave any Buddhist association, they should continue to spread the right and good teachings of Buddha," he said when attending JBM's 30th anniversary dinner in Johor Jaya.
Dr Wee also announced an allocation of RM20,000 to the mission which will be used for their activities and education programmes for the poor.
He also shared his journey in Buddhism, how he came to learn about the religion decades ago as a schoolboy and his practice fo the faith throughout his university days until becoming a politician.
"All the religious songs in this event are very familiar to me as I have been singing them since I was young.
"Upon entering the event hall, I immediately felt at home," he added.
Guests were treated to an eight-course vegetarian meal while enjoying entertaining performances including "bian lian" or the art of face changing and tai chi performed by monks from China.
JBM chairman Lew Huan Kun said a group of devoted Buddhists first formed the Johor Baru Buddhist Association in June 1980 with the objective of spreading and sharing Buddha's teachings.
He said due to a lack of funds and members, they could only operate from a private residence in Taman Melodies before re-registering as JBM in May 1986.
From then, the association organised religious classes and talks at its centre at a two-storey shoplot in Taman Desa Jaya.
"We finally managed to raise enough funds after 15 years to build our own centre on a plot of land in Jalan Saga, Taman Desa Cemerlang, which we started utilising fully in 2009.
"The centre is well-equipped with facilities like six classrooms, a prayer area that can accommodate about 500 devotees, a media room, library, seminar room and a kitchen and dining area on the basement floor," he said.
Besides holding religious classes for children and the underprivileged, JBM actively organises annual Wesak Day celebrations, charity bazaars and mass prayer sessions, added Lew.