In Malaysia, Thai Buddhists remember late King Bhumibol
by Melissa Goh, Channel NewsAsia, 14 Oct 2016
Petaling Jaya, Malaysia -- Nestled in a quiet neighbourhood in Petaling Jaya in Selangor state, is the majestic Chetawan Thai Buddhist temple.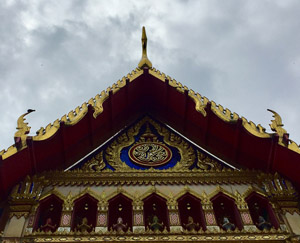 << The Thai Royal insignia gracing the chofa of the Wat Chetawan temple in Petaling Jaya. (Photo: Melissa Goh)
It was built in the 1950s with a royal donation from Thailand's King Bhumibol Adulyadej. The King's insignia graces the temple facade, a sign of his personal interest in the temple.
"That insignia is unique in the sense that his majesty did not grant the permission to display that in other temples in Malaysia, except for this one," said the temple secretary Sa Wai. "In Thailand there are some, but not many. This is the significance the majesty placed in this temple."
In 1962, during a state visit to Malaysia, King Bhumibol performed a ceremony to raise the Chetawan Temple's "chofa".
A "chofa" is a decorative element adorning temple roofs, and the act of raising it is seen as confirming the sacred nature of the building.
Today, the Chetawan Temple is three times its original size, and every stage of its expansion has been graced by members of the royal family, including King Bhumibol's son, Crown Prince Maha Vajiralongkorn.
There are around 70,000 Malaysian Siamese, living mostly in the northern states of peninsular Malaysia bordering Thailand. Many regularly visit the Chetawan Temple not just to pray but also to socialise and to get together.
It reminds them of their roots, they say; and although many have never met the king, Thai Buddhists in Malaysia spoke fondly of him. "We Siamese of Malaysia feel very proud of the King; he is very good," said Phra Sophonchariyaphorn, Chief Monk, Thai Buddhist Chetawan Temple. "I really love the King"
Temple secretary Sa Wai added: "It's seldom that you see a monarch (mingling with people); when they see him, people just kneel down and hold his hand and pay respects.
"The beauty of it is that people come here not just to practise their religion, but also to learn their mother tongue – and to keep in touch with the social and cultural aspect of having a Thai background."
Although the King Bhumibol visited Malaysia only once during his entire reign, he touched the lives of many Buddhists – people who are now determined to keep Chetawan Temple a place of solace for generations to come.
King Bhumibol first and only state visit to Malaysia was in June 1962, when the country was still called Malaya. He was received by the then Malaysia King Syed Putra. During the week-long visit, he spent time at Cameron Highlands, visited Perak before going to Penang with Queen Sirikit.