Malaysian Buddhists to sponsor 1,900 student monks in Sri Lanka
The Buddhist Channel, Oct 18, 2016
Kuala Lumpur, Malaysia – Maha Karuna Buddhist Society will be organizing the annual "Student Monks Education Dana" this year on 20th November, 2016. The event will be held at the village of Kirinda, in the district of Mathara, Sri Lanka. The venue was selected as it coincides with the 10th anniversary memorial of the late Ven. Dr K Sri Dhammananda, who hails from Kirinda.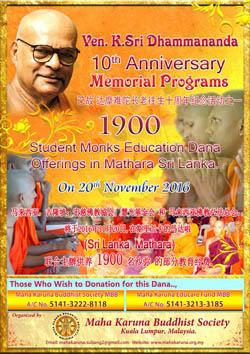 Organiser of the event, Ven. Sri Saranankara Nayaka Maha Thera, Adhikarana Sangha Nayaka (Chief Judiciary) of Malaysia said that the annual event provide academic assistance in the form of books and educational materials to junior monks. This year, about 1,900 monks from the Mathara area are expected to receive the assistance.
"Every year, Maha Karuna (Buddhist Society) organizes the "Student Monks Education Dana" to provide assistance to student monks in Sri Lanka," says Ven. Saranankara, who is also the Chief Abbot of Sri Jayanti Buddhist Temple in Kuala Lumpur. "This year, we chose the village of Kirinda to honour the 10th anniversary memorial of our late Chief Venerable Dr. K. Sri Dhammananda, who incidentally hails from Kirinda," he adds.
In the programme, each monk receives study materials such as Pali Dictionaries and school textbooks. The materials provided are graded according to the monk's age and academic years.
This is the 18th year of the annual programme. In 2017, the event will be held in the historic town of Anuradhapura, a UNESCO World Heritage Site and the center of Theravada Buddhism for many centuries.
Donations for the event are welcomed. Those interested may make contributions into the following accounts:
Maha Karuna Buddhist Society
A/C No. 5141-3222-8118
Maybank (Malaysia)

Maha Karuna Educare Fund
A/C No. 5141-3213-3185
Maybank (Malaysia)

For enquiries, please contact: mahakaruna.subang2@gmail.com