Devotees given blessed sand
By SYLVIA LOOI, The Star, June 9, 2005
Penang, Malaysia -- Over 3,000 packets of sand, used to create the world's biggest mandala sand art in Penang, were distributed to devotees on Monday evening. The sand was said to have healing effects and energy, having been blessed by His Eminence Lho Bongtul Tenzin Nyima Rinpoche, the abbot of Lho Long Kar monastery in China.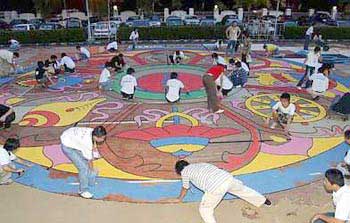 The car park of the Che Hoon Khor Moral Uplifting Society in Macalister Road had earlier been turned into a giant canvas adorned with multi-hued sand. The ?artists? of the World Peace Sand Art were 70 volunteers who had spent four days outlining the eight auspicious signs before pouring coloured sand to create the masterpiece.
More than eight tonnes of sand in six colours were used to build the 16m by 24m artwork, the size of five badminton courts.
The project was held in conjunction with a lamp lighting ceremony billed the Journey of Mani 9 ? The Light of Lapis Lazulli, the Grand Blessing Ceremony of Eight Different Aspects of Medicine Buddha, hosted by Hong Kong celebrity Eric Tsang.
It was held to inspire people to embrace compassion, respect life and to live in harmony with each other.
Before the sand was distributed, four Tibetan monks led by His Eminence Lho Bongtul Tenzin Nyima Rinpoche, had mixed up the sand to symbolise the impermanence of life.
Volunteers later used shovels to scoop the sand into plastic containers before distributing it to devotees in plastic bags.
There was also a community blessing session where monks blessed devotees who lined up to collect the sand.
A video recording on the making of the sand art would be submitted to the Guinness World of Records for registration as the world's biggest mandala sand art.
On Monday night, event organiser CreatiVision D.C. Sdn Bhd had invited state dignitaries such as Chief Minister Tan Sri Dr Koh Tsu Koon, state executive councillors Datuk Koay Kar Huah, Datuk Dr Teng Hock Nan and deputy state speaker Lye Siew Weng to witness the measuring of the sand art.
Earlier, there were Mahayana, Theravada and Vajrayana dharma talks.
There was also a lamp lighting ceremony in which 20,000 oil lamps were lit for the well being of the public and the Dec 26 tsunami.
A sum of RM231,000 was collected from the event and distributed to the Mal-aysian Buddhist Associa-tion for the Educa-tion and Charity Buil-ding Fund, Lho Long Kar Monastery, Qing-hai Province for its hospital and resea-rch centre construction fund and the Penang Caring Dia-lysis Society.