Buddhist centre to be built in Malaysian administrative capital
by Gan Pei Ling, the Star, 8 May 2017
PUTRAJAYA, Malaysia -- A national Buddhist centre and houses of worship of other major faiths will be built here as part of the Government's plan to have a multi-religious enclave at the nation's administrative capital.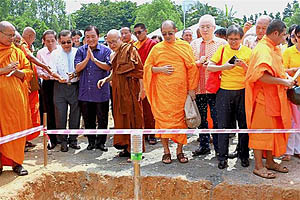 << Auspicious start: Ong (in purple shirt) and Dr Wee (in red dotted shirt) attending the ground-breaking ceremony of the Buddhist centre at Precinct 20, Putrajaya.
"It represents and underscores the Govern­ment's commitment to religious freedom, as stated in our Constitution," International Trade and Industry Minister II Datuk Seri Ong Ka Chuan said.
He was present yesterday at the ground-breaking ceremony of Pusat Buddhis Dham­maduta Malaysia at Precinct 20.
The centre, which will be built on a 0.27ha government-owned land, is next to a Hindu temple that is being constructed now.
Named the Devi Sri Lalithaambigai Alayam complex, it will feature elements from temples in north and south India.
Ong called yesterday's event "a ground-breaking moment" for Buddhists in Malaysia as the national centre would be a "Buddhist capital" for them.
The Government, he said, had also set aside land around that area for other major non-Muslim faiths such as Christianity, Taoism and Sikhism.
About RM8mil will be raised by the Buddhist Missionary Society of Malaysia (BMSM) to construct the two-storey building with a garden rooftop and a built-up area of 1,858sq m.
BMSM president Loh Pai Ling said the building would house a resource centre, training facilities and an education centre.
"It will feature contemporary designs with significant and symbolic elements to showcase the Buddha's wisdom and compassion in modern times," she said.
The building, which will also become BMSM's national headquarters, is slated to be completed by August 2018.
Loh said it would be a convenient place of worship for about 2,000 Buddhists residing and working in Putrajaya.
BMSM Putrajaya branch will also organise activities to promote inter-faith harmony and greater understanding among major religions in Malaysia.
MCA deputy president Datuk Seri Dr Wee Ka Siong said the party would donate RM100,000 to its construction.
BMSM was founded in 1962 by the late Venerable Dr K. Sri Dhammananda for the propagation of Buddhism.
It has about 11,000 members nationwide.
It is also a co-founder of the Malaysian Consultative Council of Buddhism, Chris­tianity, Hinduism, Sikhism and Taoism, and is part of other interfaith groups.
BMSM religious adviser Venerable Mahin­da, BMSM adviser Datuk Ang Choo Hong, Malaysian Buddhist chief high priest Datuk K. Sri Dhammaratana, the Ambassador of Thailand to Malaysia Damrong Karikruan and the High Commissioner of Sri Lanka to Malaysia A.J.M. Muzammil were also present at yesterday's event.