'Religious leaders must lead the way'
by Adrian Chan, the Star, 8 May 2017
KUALA LUMPUR, Malaysia -- Religious leaders should lead by example to promote a moderate way of life among the people, says Venerable Datuk K. Sri Dhammaratana Nayaka Maha Thero.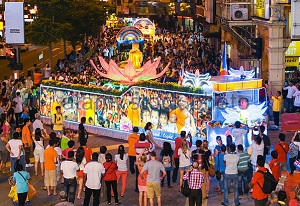 The chief monk of the 122-year-old Buddhist Maha Vihara temple in Brickfields here urged leaders of various faiths to meet more often in a show of solidarity, and to encourage their followers to work and live together.
"In those days, if we have extra papayas, bananas or chili, we will give it to our friends from other faiths. Likewise, if they have extra mangoes, they will bring it to our house.
"Unfortunately, such practices have slowly faded away. What we have to do as religious leaders is to gather more regularly," he said, adding that leaders should set an example for others to follow.
This year's theme for Wesak Day is Religious Moderation Towards Social Harmony.
Dhammaratana said Malaysians of different faiths should practise understanding, tolerance and patience with each other.
"Every year, 30,000 to 40,000 Buddhists participate in the Wesak Day procession in the heart of Kuala Lumpur.
"When the procession takes place, police will have to stop traffic, and many cars will have to wait.
"No matter how long it takes, they do not complain. They park and wait. This is the beauty of our country," he said.
Dhammaratana urged Buddhists to observe Wesak Day by getting in touch with their spirituality, upholding the tenets of doing good, to avoid evil and to cultivate the mind.
"It is not about merry-making. That is what I always stress. We must try our best to spend our time improving ourselves and growing as Buddhists, especially during this auspicious day," he said.
Despite its main hall being closed for renovation, Dhammaratana expects more than 40,000 devotees to visit the temple on Wesak Day, where the procession will begin at 6pm.
The floats are expected to pass through Jalan Petaling, Jalan Raja Chulan, Jalan Bukit Bintang and Jalan Pudu, among other roads, before returning to the temple.
Wesak Day, also known as Buddha Day, usually falls on the full moon in April or May, and is observed by millions of Buddhists around the world. It commemorates the birth, enlightenment and the passing of Siddhartha Gautama Buddha, whom Buddhists regard as their great teacher.