Wesak Special: Malaya's first Buddhist association
By Alan Teh Leam Seng, The New Straits Times, May 27, 2018
Penang, Malaysia -- "UNCLE Wong's house is near the junction of Lebuhraya Bodhi and Jalan Nirvana," remarks my father as I slowly turn into the North-South Expressway. My parents had just heard of their former colleague's ill health and decided to pay him a visit. Since it's the weekend and there's nothing on my schedule, I offered to drive them to Penang for a day trip. With images of sumptuous hawker food dancing in my mind, this will be like killing two birds with a stone.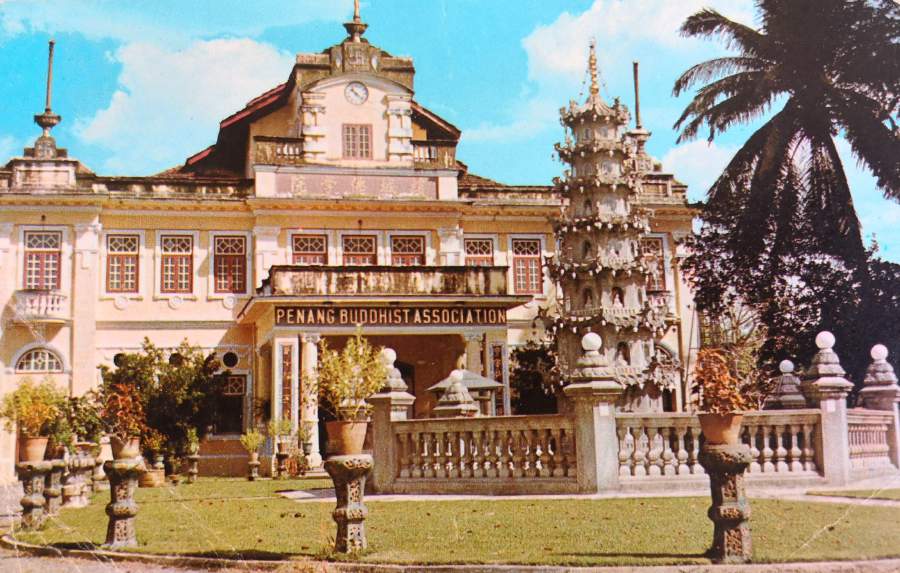 << The PBA is located along Jalan Anson.
The unusual road names immediately arouse my interest. If memory serves me right, it was under the shade of a very large and old fig tree in Mahabodhi Temple at Bodh Gaya, India where Siddhartha Gautama, the spiritual teacher and founder of Buddhism, later known as Gautama Buddha, achieved Bodhi (spiritual enlightenment). Since then, this evergreen species, with its heart-shaped leaves, has been referred to as the Bodhi tree.
It suddenly dawns upon me that Uncle Wong's place is in a location that has good vibes. After all, Hindus and Buddhists alike consider nirvana as the highest state of enlightenment a person can achieve where individual desires and suffering no longer exist.
Things become even clearer as our conversation continues. All the roads in Uncle Wong's housing estate bear Buddhist-inspired names as it was developed by the Penang Buddhist Association sometime in the early 1930s.
"Back then, the Penang Buddhist Asso¬ciation (PBA) was the first Buddhist institution in Malaya to present a correct picture of Buddhism, free from the trappings of superstitions and malpractices, to members of the public" my mother adds.
It seems that this obligation stems from the fact that Penang is a cosmopolitan island consisting of a diverse number of ethnic groups. Since its establishment as a British settlement in 1786, immigrant races, including Thais, Burmese, Singhalese and Chinese had started arriving at the shores of Penang (known then as Prince of Wales Island).
These new arrivals brought with them their religious practices and began building Buddhist temples and forming associations. Among those were Theravada temples which were originally set up to cater for the spiritual needs of the Thais, Burmese and Singhalese communities. As such, in those early days, only Wesak, Kathina (the offering of robes to monks marking the end of the Buddhist Lent) and their individual ethnic New Years were celebrated.
However, by the early 1920s or even earlier, the Thais, Burmese or Singhalese began losing influence over their own temples when Chinese worshippers began to gradually outnumber them. In order to cater to this new majority group of devotees, the once purely Theravada temples started incorporating Chinese customs and celebrations as part of their official activities.
Acutely aware of this encroachment, a group of Straits Chinese Buddhists decided to form their own association that would give them the opportunity to study Buddhism in its pure and uncorrupted form.
PENANG BUDDHIST ASSOCIATION (PBA)
The PBA was registered with the Registrar of Societies on Feb 25, 1925. The Government Gazette Notification No. 441 published on March 6, 1925 listed the nine association founders as Lee Swee Bee, Lim Chean Seang, Lim Boon Chin, Lim Eu Teong, Ong Boon Sin, Lim Teong Aik, Teoh Teik Thuan, Chew Eng Bang and Lim Say Eng.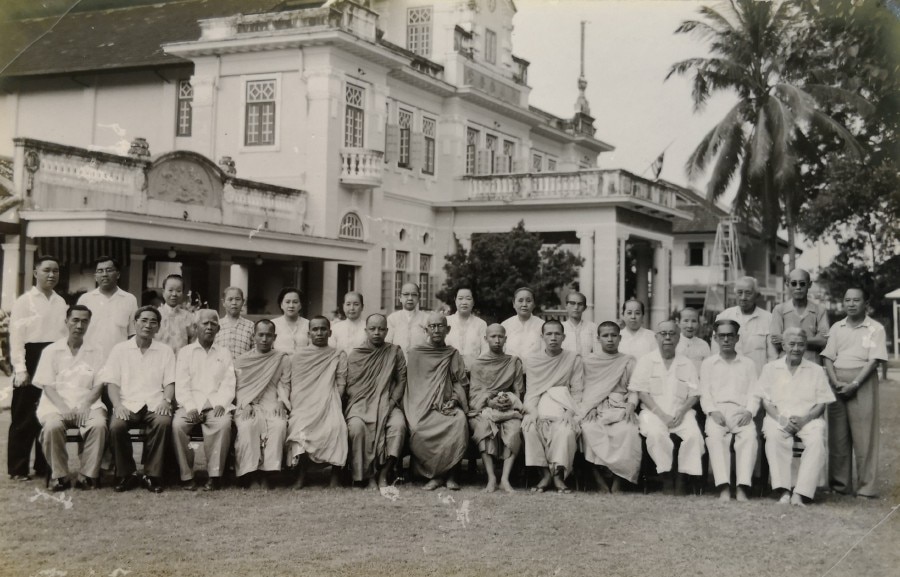 A photograph featuring visiting monks and the association members taken in the early 1950s >>

Soon after PBA's formation, the association's rules and bye-laws began to raise eyebrows among its members. There was clearly no attempt to specifically define what was meant by the doctrine of the Buddha, nor was there any measure mentioned, which would guard the association against the possibility of reverting to, in its own terms, malpractices such as those committed at most Chinese temples throughout Penang.
This revelation prompted a response two years later when Venerable Kee Tong stated clearly that activities such as burning paper houses and elaborate funeral processions, accompanied by musicians, were considered defective influences and malpractices that shouldn't be condoned by those who sought to study Buddhist teachings in their purest form.
Although largely a Mahayana Buddhist association, the PBA had always been ecu¬menical in both its activities and outlook. This liberal approach could be seen in the association's first few Buddhist lectures which were delivered by Venerable Hai San, a Mahayana Buddhist monk, and Venerable A. Pemaratana, a monk with Theravada inclinations.
While Wesak Day was always celebrated in May, a date generally accepted by Theravada practising countries, the PBA also gave equal prominence to other celebrations like the birthday of Bodhisattvas Kuan Yin, Man¬jushri and Ksitigarbha.
"Why don't you visit the PBA when we're at Uncle Wong's place? It's just a stone's throw from the housing estate," my father suggests as we approach the Penang Bridge. I nod enthusiastically, knowing full well that there's still much for me to discover.
EARLY BEGINNINGS
Despite its establishment in 1925, the PBA didn't have sufficient funds to have a building to call its own. During those early forma¬tive years, the association took up temporary residence in the premises of Siang Kheng Si in Jalan Perak. A few years later when membership rose rapidly, it was forced to relocate to a larger place in Kim Ho Keong Si in Jalan Datuk Kramat.
The sizeable membership soon enabled the association to commence its fund raising exercise. For seven years, starting from 1928, devotees who donated $120 or more were given life membership status while those who gave more than double that amount were given life membership in addition to having their names etched on the association's ancestral tablet.
By 1929, the PBA had secured enough money to purchase a piece of land opposite the Datuk Kramat Padang. Instead of resting on their laurels, the association members steeled their resolve to collect even more money to fund the construction of their new home.
A year later, in 1930, the association set up its first provident fund for the purpose of allowing members to enjoy benefits when they retired. This popular move brought more people into the fold and membership for that year jumped to 540.
Finally, after a two-year construction period, the new PBA building was declared open in 1931. During the ceremony, the PBA also adopted a Chinese calling, 'Pin Sia Hood Hake Ee', which was actually a direct translation of its name in English.
The inclusion of a Chinese name and the phenomenal success of its provident fund launched the year before brought in a deluge of members. By 1935, membership stood at 7,062 where 3,761 were provident fund holders. Five years later, in 1940, the number of members more than doubled to 16,164 while the number of provident fund members nearly quadrupled to 12,011.

RICHEST BUDDHIST INSTITUTION

This outstanding increase in membership raised some concern among the PBA committee members. They began to wonder why people were really joining. Was it with the true intention of studying Buddhism or merely to benefit from its lucrative provident fund?
By 1935, the PBA became the richest Buddhist institution in Penang. With its new found financial clout, the association set about enlarging and improving the monks' living quarters to cater for a larger number of visiting monks from China as well as invest in a stretch of land to build 49 terrace houses and three bungalows. These homes were the predecessors of the ones now in Uncle Wong's estate.
After dropping my parents, I head off towards the nearby Jalan Anson. Being a weekday, the PBA is rather quiet but I can sense the ever present serenity. The sprawling and well-manicured lawns, as well as the centrally-located seven-tiered pagoda, are indeed a sight for sore eyes.
Externally, the PBA building does not have the traditional Chinese architectural style commonly seen in early Penang temples. This could be due to the popularity of the westernised form, called the Late Straits Eclectic style, during the time when the structure was built in the early 1930s.
It's also interesting to note that local Mahayana temples do not typically resemble their counterparts in China. This divergence is primarily attributed to the lack of raw materials, artisans and exorbitant costs involved in their construction. A good example of this type of locally-designed temple is the Beow Hiang Lim Temple which is located near the Penang Hill Railway Station in Ayer Itam.
The amazing story of the PBA continues when I walk into one of its high-vaulted halls which is ornately decorated with polished floor titles, multi-tiered chandeliers and mother-of-pearl inlaid furnishings. Looking at the records highlighting the association's philanthropic activities over the years, I realise that PBA has made good use of the substantial profits derived from the rents of the houses it owned to help the needy.
Among the pre-war recipients of the association's generosity were the Po Leung Kuk (Society for the Protection of Women and Children), Ayer Itam Flood Relief Fund, China Relief Fund and the Pulau Jerjak Fund. I also noticed that Penang's Sungai Dua Old Folks Home was one of the major beneficiaries. By 1937, it had received in excess of $30,000 worth of aid. Apart from these, the PBA also gave generously in support of local temples as well as those abroad.
During the Japanese Occupation, the PBA was forced to make a voluntary donation of $46,547.19 to the Japanese Military Administration. This huge sum was PBA's share of the $50 million that all Chinese communities in Malaya had to pay in return for the release of their seized property. This huge sum also helped to absolve the Japanese Army's brutal treatment against the Chinese and help prevent further unnecessary loss of lives.
After the Second World War, a historic Peace Service was held in PBA's main shrine hall to remember those who perished during the horrific Japanese Occupation. Among those who attended this solemn ceremony was the Governor General of Malaya, Sir Malcolm MacDonald and prominent Pen¬ang community leader, Dr. Ong Chong Keng.
EVOLUTION THROUGH THE YEARS
In the later years, there appeared to be a lax in the association's strict rules when nuptials were allowed to be solemnised within the premises. This was an unheard of practice in any liberal Mahayana temple, let alone stricter Theravada temples like the PBA. Buddhists considered marriage to be a strictly secular affair and monks shouldn't be involved.
At the same time, others viewed this innovative approach as an attempt to prove that Buddhist monks could perform as well as, if not better than, Christian priests when it came to solemnising wedding ceremonies. Nevertheless, this practice was discontinued several years later after members voiced their disapproval.
By the 1950s, a youth section was formed to organise programmes like picnics, study groups, hymn singing sessions and preaching for the younger generation. Mandarin classes were also conducted for PBA's English educated members.
Some time in 1964, the Penang Buddhist Association Kindergarten was established after the association realised that there was a need to help working parents care for their children. This day-care styled centre became very popular and remains an affordable option for the people of George Town until today.
The chiming of a nearby wall clock startles me to the present. It's time to pick up my parents. On the way back to the car, I can't help but reflect upon the PBA's 93-year-old legacy. Coming from humble beginnings, it has steadily evolved to become a world-class Buddhist organisation that serves all sec¬tors of humanity with boundless love and compassion.