Young Buddhist Association of Malaysia initiates month long Independence Day celebrations
The Buddhist Channel, Aug 27, 2005
Kuala Lumpur, Malaysia -- The Young Buddhist Association of Malaysia (YBAM) has initiated a month long program to usher in the 48th year of Independence of modern Malaysia. The celebrations - with this year's theme "Keranamu Malaysia; Peace, Patriotism, Virtue" - will last through September 18, 2005.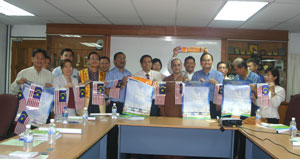 << It's Selamat Hari Merdeka! With greetings of Peace from the Buddhist community. Photo of the Organising Team and Participating Organisation
The program was jointly launched with the Malaysian Buddhist Coordination Committee (MBCC, consisting of Malaysian Buddhist Association, Young Buddhist Association of Malaysia, Buddhist Missionary Society Malaysia, Sasana (SAWS), Tzu-Chi Malaysia, Fo Guang Malaysia & Vajrayana Buddhist Council Malaysia). It is also supported by the Subang Jaya Buddhist Association (SJBA) and Upakara Kalyana Mitta Buddhist Association (UKMBA).
The launching ceremony and press conference was held at Brickfields Maha Vihara on Tuesday, 7.00pm August 9, 2005. Representatives of various Buddhist organizations were present to witness this event.
The Celebration will be made as visible as possible via a series of promotional media tools such as posters, pamphlets, car stickers, the Internet, press releases & media coverage. It will come to a close with a ceremony at Subang Jaya Buddhist Association on Sunday, 9.00am Sept 18 2005.
This celebration will mainly be concentrated in the Klang Valley, whereby 25 Buddhist organizations (Events) will host a series of Buddhist cum nation-building talk entitled "Buddhist Lifestyles for Nation Building". Experienced speakers will highlight the key Buddhist qualities like harmony, peace & gratitude and how these qualities can contribute towards nurturing Buddhists who are law-abiding, cohesive and productive citizens of Malaysia.
The talks will also incorporate the "4 Awareness Campaign" organized by YBAM that places much emphasis on the dangers of smoking (& its continuation drug addiction), alcoholism (& its continuation intoxication), violence (school, domestic, societal, racial conflicts & wars between nations) and suicidal cases. These dangers have become pressing social problems and are a great concern to the family, society and the country. Strict enforcement & punishment cannot curb the drug trafficking. Stiff tax on cigarettes and alcoholic drinks do not bring good results either. Stiffer penalties have also failed to decline the number crimes, suicidal and violent cases from happening. A more effective way is to provide good education, cultivate a healthy & strong mind, promote lifelong education and inculcate religious (Buddhist) values.
This celebration event will be aligned into a strategic long-term effort to highlight the Malaysian Buddhists' commitments towards nation building. This celebration may eventually become an annual event.
For more details of the celebrations, please logon to:
http://www.ukmba.org.my/keranamu