Fostering Buddhist Culture and Values in the Corporate environment
The Buddhist Channel, October 12, 2005
Petaling Jaya, Selangor (Malaysia) -- "The Buddha refused to name his successor. He wanted to empower all of us to be CEO in our own right. Understand and practice His teachings and you are automatically the CEO of your life and the people around you."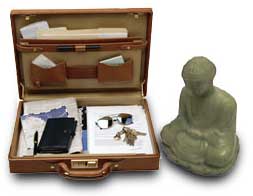 Participants will expect to hear more of such powerful one-liners from renowned Buddhist trainers in a forthcoming seminar entitled "Buddhism and Organization Management". The one day seminar which will be held at a leading hotel in Shah Alam, Selangor on October 23, 2005.
Organized by the Yayasan Belia Buddhist Malaysia (YBBM) and supported by the Buddhist Business Network (BBN), the seminar is the first in Malaysia to bring together top corporate trainers and executives with Dharma teachers.
Organized in support of the development of the Bodhi Park project by YBBM, the objective of the seminar is to explore and discuss issues and manners on how to bring Buddhist teachings into the corporate office.
Aimed at corporate executives, working professionals and administrators, many of the discussion threads will be centered on two main areas.
The first, to be delivered by renowned corporate trainer Keek Seng Bee, will explore the expediency of using Buddhist teachings to foster values such as integrity, accountability and responsibility into the corporate environment. Using his background as a corporate trainer, his talks will touch on areas which are of concern to organizational management, such as effective leadership and competency framework. Models such as McKinsey's 7S and Burke & Litwin Causal Model will be introduced to clarify modern researches in organizational behavior and how Buddhist teachings can be applied as complementary guides.
Another speaker, Mr Chong Su Lim will dwell on the topic of "Buddhist Values as Work Ethics". His presentation will explore Buddhist value systems such as the Five Precepts and The Noble Eight Fold Path and how moral guidance can help one to become "better and more productive workers".
Contribution of ideas and suggestion from members of the Sangha are also not left out. Leading the way will be Venerable Thitadhammo, the Sangha member from Singapore who was a professional trainer before giving himself fully to the holy life. His talk will be on "Bringing Buddhism into your office".
While the idea nurturing Buddhist values in the office environment is not new, formulating the right content mix and expertise as derived by the seminar organizers in this instance is something of a novelty. "It is not often we get to hear experts who are competent in delivering organizational behavior models and superimposing them with Buddhist teachings," explains the seminar organizing chairman Lim Kooi Fong. "With the gathering of such expertise, we hope the participants will get a fair idea of how Dharma based values can be seamlessly practiced in the office without feeling out of place," Lim further emphasize.
To register and to get more information about the seminar, please visit:
http://www.bodhivision.net/seminar2005/
If you go:
Seminar on "Buddhism and Organization Management"
When: Sunday, October 23, 2005
Time: 9 am to 6 pm
Where: Grand Bluewave Hotel, Shah Alam, Selangor, Malaysia
Fees: RM 110.00
Related link
http://www.bodhivision/net/bodhipark