Kuala Lumpur's Buddhist Mahavihara listed as tourist site
By LIM SHIE-LYNN, The Star, February 20, 2006
KUALA LUMPUR, Malaysia -- The Buddhist Maha Vihara Temple in Brickfields here will be placed on the list of tourist must-see sites, said newly-appointed Tourism Minister Datuk Seri Tengku Adnan Tengku Mansor.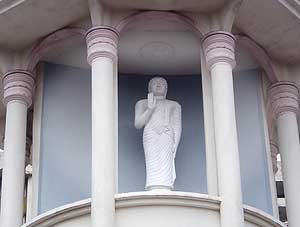 << The century old Buddhist Mahavihara is earmarked as one of Kuala Lumpur's tourist site for places of worship
"There are many tourists who come to visit the different places of worship here. As such, we will see to it that the Maha Vihara is included on a list of religious sites that they should visit in Malaysia."
Tengku Adnan told reporters this at a cheque presentation ceremony yesterday for a 5ha orphanage project in Aceh.
Tengku Adnan, who is also the chairman of Yayasan Al-Mansoriah, received an
RM300,000 donation from the Buddhist Maha Vihara Tsunami Relief Fund in aid
of the RM4.5mil complex. The construction began in Desa Kebun Rantau, Aceh,
last August.
The complex will include prep-rooms, principal and staff quarters, nurseries, four hostels and two dining halls.
It will be accepting orphans from overcrowded orphanages in the vicinity, as it is able to house a maximum of 500 people.
Wholly managed and operated by the foundation, the orphanage plans to introduce a child-sponsorship programme in which a donation of RM1,500 per year by individuals is expected to cover the child's education, food and
clothes.
The complex, which was initially set to begin operations in April, will only do so in June as the construction team in Aceh were hampered by materials and logistical problems.