In honour of spiritual teacher
by Shahrul Hafeez, The New Straits Times, Apr 28, 2006
IPOH, Perak (Malaysia) -- Nestled in lush greens and flanked by the limestone Tambun Hills stands a 24-metre statue built by an orchard owner to honour his late spiritual teacher.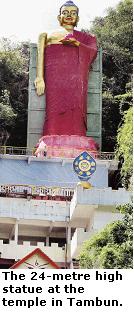 Sitting atop the Jingang Jing She temple in Tambun, near here, work on the imposing structure was completed in seven months.
Its builder Fu Ah Kau, 62, had embedded within the statue relics and spiritual scriptures belonging to his late teacher, Nepalese Tulku Urgyen Rinpoche.
Met at the temple yesterday, Fu said he met Tulku about 30 years ago when the latter came to Malaysia and eight years ago, work started on the temple.
In 2002, Fu went to Nepal and found out the Tulku had died in 1996.
"I was surprised and honoured when I was given relics and scriptures belonging to Tulku. It was then that I thought about erecting a statue in his honour," he said.
Fu said the area where the statue is located was perfect for meditation as it was tranquil and commanded a breath-taking view of the surroundings.
"I think of the statue as bringing prosperity to the whole area," he said, adding visitors would have to climb 194 steps before they could get a view of the statue.
The temple is shielded from the Tambun-Taman Chempaka road and visitors have to drive 500 metres along a narrow road before they can get a glimpse of it.
More than 200 smaller statues have also been placed within the temple's compound.
Fu, who has a special prayer room on the ninth floor of the ten-storey temple, said Tulku's son, Chokyi Nyma Rinpoche, 54, would be here for a blessing ceremony on May 17.
On the temple, he said it was designed to blend with the slopes of the hilly area.
"For example, in some rooms in the temple, the walls are part of the hill's face," he said.
The temple is able to accommodate about 200 people at any one time and has five guest rooms.