Lighting up temple with 2,550 candles
By ONG YEE TING, The Star, May 13, 2006
Penang, Malaysia -- THE flickering 2,550 yellow lotus candles lit up the Mahindarama Buddhist Temple on Kampar Road, Penang, in conjunction with the Wesak Day celebration.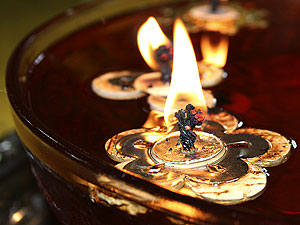 Despite the evening drizzle, hundreds of devotees visited the temple on the eve of Wesak Day to offer prayers and seek blessings.
They gathered a night before the actual celebration that marked Buddha's birth, enlightenment and attainment of Nirvana.
To commemorate the 2,550th anniversary of the celebration, the temple had arranged for 2,550 candles to be lit up and had decorated the 10m-tall Buddha plywood effigy with 2,550 bulbs.
Before the lighting of the lotus candles, some devotees were seen bringing trays of offerings from the monks' quarters to the main shrine.
Arranged neatly on the trays were a plate of flowers, a small lotus candle, incense and a few glasses of water that symbolised changes, wisdom, peace and purity.
While the devotees with the trays made their way to the main shrine, others gathered along the side to touch the tray and said "Saddhu" (excellent) to compliment them for doing good.
The temple's chief monk, Ven E. Indaratana Maha Thera said the devotees who had gathered at the temple were encouraged to participate in the ceremony by touching the trays and share the blessings.
After the prayer session in the main shrine, Ven Indaratana led the monks, followed by the devotees to light up the candles.
"The candles symbolise the Buddha's teachings - the 'light' of truth that dispels the darkness of ignorance," he said.
Young devotee, Gwynneth Tan Sze Ern, eight, might be too young to understand the true meaning behind the lighting of candles but enjoyed herself very much during the celebration.
"This is my first time celebrating Wesak Day here. I prayed but I made no special wishes," she said after helping to light up some of the candles arranged neatly on the table in the temple's compound.