Malaysia's Chief monk critically ill
The Star/Buddhist Channel, August 30, 2006
Petaling Jaya, Malaysia -- The Chief Monk of Malaysia and Singapore Venerable Dr K. Sri Dhammananda, 87, is critically ill and has been in a private hospital in Petaling Jaya for more than a week. The public however, is advised not to visit him at the hospital.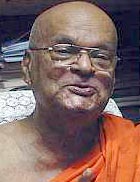 << Ven. Dhammananda: Has been in a private hospital for over a week
He has been on tube feeding for about six weeks following a stroke.
"He is very weak and we have asked the doctors to help him fight on. He flew back from Singapore last Monday after three weeks at the Mount Elizabeth Hospital where he sought treatment after a second mild stroke.
Instead of returning to the Buddhist Maha Vihara in Brickfields, he requested to be readmitted to a hospital," said Rev K. Dhammaratana, deputy chief monk of the temple.
Rev Dhammananda is the chief monk of Buddhist Maha Vihara. Affectionately referred to as Chief Reverend, he has been involved in Buddhist missionary work for 54 years.
Meanwhile the Buddhist Channel reports that Mr. Sarath Surendre, President of the Sasana Abhiwurdhi Wardhana Society, have requested the public not to make visits to the private hospital where the Chief venerable is currently recuperating.
The numerous visitors he said had disrupted the venerable's much needed rest. Mr Surendre also said that the hospital's administrators have requested Buddhist representatives to inform the public not to camp at the hospital as space there was limited.
"We understand the devotee's concern for our much beloved Chief Venerable," said Mr Surendre, "but for the venerable's sake as well as to maintain public order at the hospital, we implore the people to be considerate."
Mr Surendre also advised that "if devotees are really concerned for the venerable, they are encouraged to radiate thoughts of loving kindness (metta) to him."
He requested the media to play the role as responsible information provider as unfounded rumours have been circulating about the health situation of the venerable.
The Buddhist Channel has been assigned as the official media to disseminate information relating to the latest situation of the venerable. Information will also be distributed via emails and SMS.
For the latest updates, please log on to http://www.BuddhistChannel.tv.