Malaysian Chinese leaders pay last respects to chief monk
The Star, Sept 2, 2006
KUALA LUMPUR, Malaysia -- Leaders from the Malaysian Chinese Association (MCA), led by party president Datuk Seri Ong Ka Ting, paid their last respects to Chief High Priest of Malaysia and Singapore Venerable Dr K. Sri Dhammananda Nayaka Maha Thera who died on Thursday.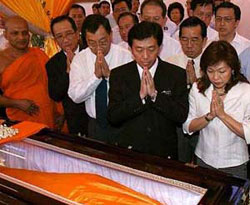 << OFFERING CONDOLENCES: Ong and other MCA leaders paying their last respects to Rev Dhammananda at the Buddhist Maha Vihara in Brickfields, Kuala Lumpur, yesterday.
The group, which included Ong's wife Datin Seri Wendy Ong, vice-president Datuk Seri Dr Fong Chan Onn, MCA Youth chief Datuk Liow Tiong Lai and Wanita MCA deputy chief Datin Paduka Chew Mei Fun, arrived at the Buddhist Maha Vihara in Brickfields here at 2.30pm yesterday.
Others who paid their respects were Deputy Internal Security Minister Datuk Fu Ah Kiow, Deputy Education Minister Datuk Hon Choon Kim, Deputy Culture, Arts and Heritage Minister Datuk Wong Kam Hoong, Deputy Home Minister Datuk Tan Chai Ho, International Trade and Industry Ministry parliamentary secretary Datin Paduka Dr Tan Yee Kew and Federal Territories Ministry parliamentary secretary Yew Teong Look.
Ong said he also conveyed the condolences of Prime Minister Datuk Seri Abdullah Ahmad Badawi to Buddhists in Malaysia.
"The passing of Reverend Dhammananda is a great loss to Buddhists in Malaysia and the world. He was a highly respected and knowledgeable person with a great devotion to Buddhism," said Ong.
He said Rev Dhammananda had selflessly shared his knowledge, experience and wisdom with Malaysians, particularly Buddhists in the country.
"For more than half a century, Rev Dhammananda brought about peace and harmony to Malaysia's multiracial society. Buddhists in Malaysia will definitely miss him a lot," said Ong.
Later, Gerakan leaders, including deputy president Tan Sri Dr Koh Tsu Koon and secretary-general Datuk Seri Chia Kwang Chye, also paid their last respects to Rev Dhammananda.
Dr Koh said Rev Dhammananda did not only build the Buddhist Maha Vihara during his 54 years' stay in Malaysia but also built up the Buddhist community, especially the English-educated devotees in Malaysia.
An eulogy ceremony will be held at 1pm tomorrow and the cortege will leave at 3pm for the Nirvana Memorial Park in Semenyih.
For further information, call 03-2274 1141/86 or Leslie Tilak at 012-212 0154.