Dhammananda... served till the very last
By Yong Tiam Kui, The Sunday Times, Sep 3, 2006
KUALA LUMPUR, Malaysia -- His name means "one who experiences happiness through the Dhamma (teachings of the Buddha)". This was the name 12-year-old Martin was given when he was ordained as a novice Buddhist monk in Sri Lanka.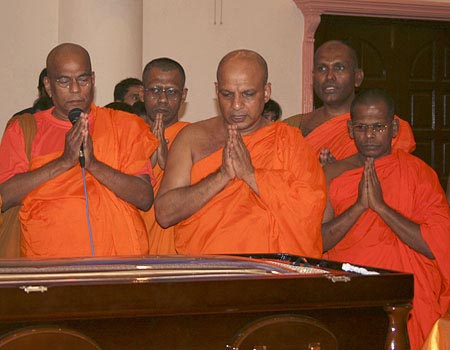 << Deputy Chief Monk Rev Ven K. Dhammaratana, who is also the nephew of Dhammananda leading the chanting session
The Venerable Dr K. Sri Dhammananda Nayaka Maha Thera, as Martin was later known, was born on March 18, 1919, in the village of Kirinde, Matara, in southern Sri Lanka.
It was common during the colonial period for Sinhalese children to be given European names.
He may have had a Christian name but Martin, even as a young child, had a keen interest in the Buddha's teachings.
Dhammananda was ordained as a full-fledged monk 10 years later. In 1952, he was sent to Malaysia to serve as resident monk for the Sinhalese Buddhist community.
Dhammananda, the Chief High Priest of Malaysia and Singapore died on Thursday, after serving 54 years in his adopted country. He was 87.
During his time in Malaysia, Dhammananda looked into the spiritual needs of his own community and reached out to the Chinese Buddhist community, particularly making a huge impact on the English-speaking Chinese.
Dhammananda was also a prolific writer, having published more than 50 books on Buddhism that have been translated into several languages and distributed worldwide.
He was also the inspiration behind the setting up of more than 15 Buddhist temples and centres throughout Malaysia.
He was said to have single- handedly brought the teachings of Theravada Buddhism to Malaysia.
Penang Chief Minister Tan Sri Dr Koh Tsu Koon said: "In his 54 years of missionary work, the Chief Reverend made significant changes, building Buddhism in the English-speaking community.
"He cultivated many young Buddhist leaders and initiated the Inter-religious Consultative Council, which has contributed to the harmony among the major races in the country."
Datuk J. Jagadeesan, founder president of the Sathya Sai Baba Central Council of Malaysia, said: "This is a great loss. There are a great many very good and wonderful people among the religious leaders in the country.
"But I have not seen anyone in Malaysia who stands in such spiritual splendour as Rev Dhammananda. He emanated a spiritual glow that attracted spontaneous reverence."
Mother Mangalam, president of the Pure Life Society, said, "I used to enjoy listening to his talks on Buddhism.
"He knew how to drive home the points with humour and wit. His teachings had a universal touch that appealed to young people."
Despite his advanced age and failing health, Dhammananda maintained a punishing schedule, giving three dhamma talks every week — at the Buddhist Maha Vihara in Brickfields, Kuala Lumpur, Subang Jaya Buddhist Association and Seck Kia Eenh Temple in Malacca.
Deputy Chief Monk Rev Ven K. Dhammaratana, who is the nephew of Dhammananda, said his uncle stopped giving talks when he suffered a stroke two months ago.
Dhammananda had been in and out of hospital because of a series of health complications, including diabetes, breathing difficulties and high blood pressure, since late last year.
As monks from all over the world chanted mantras, people from all walks of life have been paying their respects to Dhammananda at the Buddhist Maha Vihara Temple Hall in Brickfields.
A Eulogy Ceremony will be held at the Buddhist Maha Vihara in Brickfields, Kuala Lumpur, at 1pm today.
The cortege leaves the temple at 3pm for cremation at the Nirvana Memorial Park in Semenyih.