Sri Lankan PM pays last respects
The Sunday Star, September 3, 2006
KUALA LUMPUR, Malaysia -- Sri Lankan Prime Minister Ratnasiri Wickremanayake paid his final respects to Chief High Priest of Malaysia and Singapore, Venerable Dr Rev K. Sri Dhammananda Nayaka Maha Thera at the Buddhist Maha Vihara here yesterday.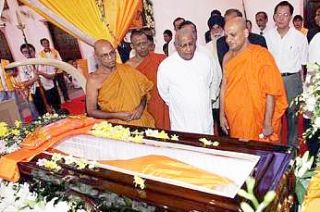 << SPECIAL HONOUR: Wickremanayake (centre in white) paying his last respects to Rev Dhammananda at the Buddhist Maha Vihara in Brickfields on Saturday.
The premier said that Rev Dhammananda's death was a great loss for the people of Sri Lanka.
"He has brought pride to our country through his teachings and high education," he said at the vihara in Brickfields yesterday.
An eulogy ceremony will be held at 1pm today at the vihara where Wickremanayake is expected to deliver a speech. He is also expected to be present at the Nirvana Memorial Park in Semenyih. The cortege will leave at 3pm.
Throngs of devotees and friends have flocked to the vihara since Rev Dhammananda died on Thursday at 12.42pm at the Subang Jaya Medical Hospital and his body taken back to the vihara to enable people to pay their last respects.
Devotees are advised to wear white and to use public transport to attend the funeral ceremony.
Meanwhile, the teachings of Rev Dhammananda still echo in the minds of many devotees.
A. Ranjan, 57, said: "He was like a father figure to me. For the past 54 years, ever since I was a child, he had been my spiritual leader and always kept me from straying off the course of righteousness.
"When I was 12, he caught me fishing by a pond, ignoring my Wesak Day duties."
Ranjan was helping with the funeral preparations at the Nirvana Memorial Park yesterday. He was among the 15 volunteers entrusted to build a "stupa" for the Adahana Husuva (funeral ceremony).
Sinhalese volunteers from the Sri Jayanthi Association (Sentul) and Sri Lankan nationals were toiling under the hot sun to erect the 30-foot castle- like structure, which will be used for Rev Dhammananda's cremation.
"It is an honour for me to participate in this occasion. Although the stupa is customary for funerals of all Buddhist priests, this is only the second time I've seen it because it is rarely practised locally," said a sweat-drenched Jayantha W. Surendre, 51.
He said that the reverend had always been a powerful speaker, especially when he taught Sinhalese Sunday school over a half-decade ago.
"I've known him all my life, and it is thanks to him that my brother, Rev. Vijitha became the first Malaysian Sinhalese monk ordained by a chief high priest.
"This is considered one of the greatest blessings to my family," he said, adding that both Sri Jayanthi Association and the Buddhist Maha Vihara (Brickfields) were working together in preparing a funeral befitting the stature of the chief high priest.
Malaysian Consultative Council of Buddhism, Christianity, Hinduism and Sikhism (MCCBCHS) expressed sorrow and loss over the death of Rev Dhammananda.
"Although not a native of this country, Rev Dhammananda has served this country long before its independence," said its honorary secretary-general R. Thiagaraja in a press statement.
"He was exemplary in his commitment to building inter-faith harmony," the statement said.
For details on the funeral, call 03-22741141/ 86, or contact Leslie Tilak at 012-2120154.