Tears and tributes at Chief Venerable's funeral
The New Straits Times, Sep 4, 2006
KUALA LUMPUR, Malaysia -- Glowing tributes, tears and prayers accompanied the Venerable Dr K. Sri Dhammananda Nayaka Maha Thera on his final journey yesterday.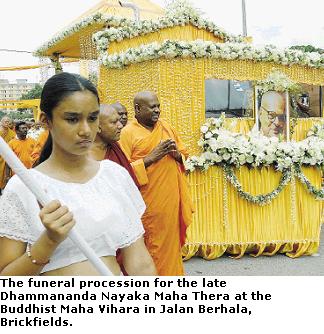 Hundreds, including Sri Lankan Prime Minister Ratnasiri Wickramanayake, and Housing and Local Government Minister and MCA president Datuk Seri Ong Ka Ting, had gathered at the Buddhist Maha Vihara in Jalan Berhala, Brickfields, to pay their last respects.
Jasmine blooms were sprinkled on the ground as the casket of the Buddhist Chief High Priest of Malaysia and Singapore was carried to a waiting hearse.
The mourners then walked slowly behind the hearse to the junction of Jalan Tun Sambanthan-Jalan Sultan Abdul Samad, before boarding cars, vans and buses for the Nirvana Memorial Park in Semenyih for the cremation.
Earlier, Wickramanayake and Ong had joined Buddhist monks and nuns, family members and those who were close to Dhammananda at a eulogy ceremony.
Devotees and those who wished to pay their last respects thronged the compound of the Maha Vihara where chairs were placed under tents. They were able to follow the proceedings on television sets placed around the compound.
Several people who knew Dhammananda — who was born in the village of Kirinde in southern Sri Lanka and died last Thursday, aged 87 — paid glowing tributes during the eulogy ceremony.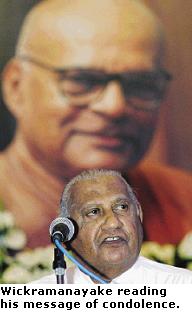 Wickramanayake, reading a message of condolence from Sri Lankan President Mahinda Rajapaksa, said Sri Lanka had lost a great monk while Buddhism had lost a great visionary. "In addition to being a good speaker, he was a prolific writer. Hardly any Buddhist has not read one of his books," he said.
Ong said Dhammananda had dedicated his life to the "promotion of peace, understanding and harmony among humankind, irrespective of creed and race".
Deputy president of the Malaysian Consultative Council for Buddhism, Christianity, Hinduism and Sikhism (MCCBCHS) Pradip Kumar said: "While we grieve the passing of a great soul, I thank the Almighty for having blessed Malaysia and mankind with Dhammananda."
Dhammananda was a founding member of the MCCBCHS, and its president when he died.
He was sent to Malaysia in 1952 to serve as resident monk for the Sinhalese Buddhist community. He wrote more than 50 books on Buddhism that were translated and distributed around the world.