We're back!
by Lim Kooi Fong, Managing Editor, The Buddhist Channel, October 25, 2004
Rebirth of "The Buddhist Channel" heralds the beginning of professional Buddhist web media.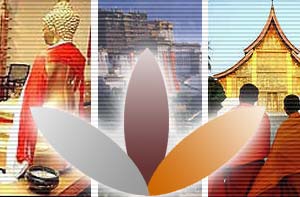 Petaling Jaya, Malaysia ? There is an ancient parable that goes like this: A gem is not made without rubbing, character is not made without trial.
Since October 12, 2004 when the Buddhist News Network (BNN) went off-line, many have written to me about the state of limbo they were in. For some, it was more like losing a relationship, something that greeted someone every morning when the PC was switched on.
The unexpected success of the BNN taught us about the value of having a plan, of ensuring adequate preparation to meet projected growth, no matter how unexpected. While it was a "good" problem, it nevertheless gave us plenty of sleepless nights, fighting to meet self-imposed datelines and of efforts to resurrect something to meet the expectations of many who are mostly citizens of countries elsewhere.
The rebirth of the BNN in this current form, called The Buddhist Channel (TBC if you like) is not without problems. Starting afresh has allowed us to dump legacy issues, especially when it comes to implementing new systems to meet bigger demands. The new beginning also enabled us to implement lessons learnt from the previous experience. While we acknowledge the privileges of working our way through with a clean slate, it didn't take too long for us to realize that we had to do re-commence the system without taking too much time off. Like waves hitting the shore, news wait for no time and no one.
Not unlike the Bardo of Becoming, the rebirth of the Buddhist Channel was planned with immense detail and clarity, promising users an unlimited mobility to navigate the news the way they want it. However, the path of its future development was strongly predicated upon an analysis of the reader's habitual tendencies in using the BNN. Meaning, we discovered that readers had peculiar ways of reading news which were subjected to their level of interest or spiritual development.
In our readership analysis of BNN, we found that almost 75% of the readers came from outside of Asia, with North Americans making up a half of this total. Readership patterns formed mainly two key streams, which is either geographical or interest centred.
We noticed that there was a lack of specific area based news such as (perhaps) an United States focused bulletin or a Euro centric platform. Reader feedback have indeed confirmed our hunch that Buddhists in places such as middle America or in the heart of the European Alps depended very much on a media such as TBC to stay engaged with Buddhism.
On another aspect, we found that common areas of interest such as Buddhist Arts and Culture, Healing and Spirituality (such as meditation), Travel and material reviews drew different batches of readers? altogether.
It is through such hindsight that we decided to embark on a total revamp of the way Buddhist news is delivered. While BNN served its function well as a basic, functional news website, it could not serve its readers the way a professionally managed news platform would. Through the application of appropriate open-source technologies, we are pleased to share with you this upgraded initiative.
Please bear with us for another few more days to make TBC fully operational. At this point of time, we anticipate that it is working at about 85 to 90% of its planned capacity. There are a few technical glitches which we are working on, such as the RSS News Feed feature, new batches of E-Cards, a section dedicated to Buddhist music and a Dharma based movie rating system.
Also in the pipeline is the appointment of an International Advisory Panel (IAP) which will be made of prominent Buddhists stretched across the globe. The aim of the IAP would be to allow greater opportunities for Buddhist voices to be heard through the channel. Again the composition of the IAP would mirror that of the readership pattern of TBC, which will mainly be geographically or interest centred.
And how do we anticipate the TBC to grow in the near future? To answer this, we would like to bring to light one of the Buddha?s most important legacies, that is the founding of the order of the Noble Sangha. Key to the survival of the Sangha to this day is the formalization of a symbiotic relationship between holy order and the lay community. Aspects of social engagement such as dana (generosity) and spiritual teachings are the lifeblood of such a symbiosis.
In the same manner, we hope to develop TBC along such a symbiotic link between how regular Buddhists go through their lives on a daily basis, and what we can all learn just by reading stories of their existence. We do not hope to do any more than this. But if we do this really well, we may just be able to goad everyone to sit up and take note that there are so many kinds of human beings ? even Buddhists - in this world.
A small awakening like that, we figure, would help in the long run to foster a more compassionate world. In times like these, where loving kindness and compassionate is in short supply, we need to do everything we can to remind ourselves of our shared humaneness.
To this, we would be most grateful if you would take this ride along with us. If possible, share this resource with your other Buddhist friends who might not have known about this facility.
We would like to ensure you that this service will remain free, and that the TBC news platform will continue to remain as a non-profit venture. Nevertheless, in order that we do not experience another shutdown like the BNN, we have received offers from many of you to support the continued existence of TBC. We are evaluating all possibilities and we will make known of how this could be done in the near future.
In the mean time, sit back, relax and enjoy this moment of rebirth. For many of us here, it is indeed a special occasion. Likewise, we hope you?ll feel the same.
With best wishes
Lim Kooi Fong
Managing Editor
Petaling Jaya
,
Malaysia