Venerable Ratana installed as Maha Vihara chief monk
The Star, October 9, 2006
KUALA LUMPUR, Malaysia -- Ven K. Dhammaratana Thera, better known as Rev Ratana, was installed as chief monk of the Maha Vihara temple in Brickfields yesterday.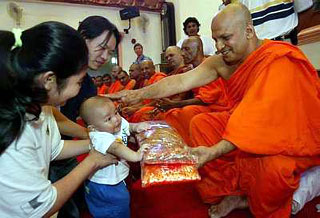 << MY BLESSINGS: Six-month-old Rinzen Tee Juyn Young and his parents (from left) Chee Hui Yin, 32, and Tee Beng Chen ,32, presenting alms to Rev Ratana at the Maha Vihara temple in Brickfields, Kuala Lumpur, yesterday.
The simple installation ceremony coincided with Kathina, a day of showing respect to monks. Rev Ratana replaces Ven Dr K. Sri Dhammananda Nayaka Maha Thera, who passed away on Aug 31 at the age of 87.
Rev Ratana told The Star that he would continue from the old leadership with focus on building a younger generation of compassionate youths.
"From my observation, parents are having difficulty with youths who are growing rebellious and they find difficulty in bringing them up.
"For this reason, I hope to organise different activities to guide youths to not challenge their parents.
"Most of all they must not speak when they are angry as they may say the wrong things and hurt others," he added.
He also called on Malaysians living in a multi-racial society to respect each other's religious and human values. "If adults do not practise tolerance, patience and compassion, then the seeds of discontent will continue with the younger generation.
"This will not be good for the economic and social progress of the nation," he said.
Devotees marked Kathina by giving away alms in the form of robes and food to monks. Buddhist Missionary Societies of Malaysia secretary Datuk Chee Peck Kiat said it was a moment of happiness for the devotees to be part of the occasion.
Born in Ceylon on July 24, 1948, Rev Ratana arrived at the Brickfields temple on March 8, 1980.
Among his contributions during his 26 years of temple service were the setting up of the Ti-Ratana Welfare Centre free clinic at Ampang Jaya and a halfway house for outstation patients seeking treatment here.
Rev Ratana acknowledged that as a chief monk he had to face big challenges. But he is undaunted. He is determined to modernise the teaching of Buddhism and to show devotees how relevant it is in coping with modern life.
"In modern society, people no longer go to religious leaders to seek advice as they are too busy with work," he said. "But as a religious leader, it is my duty and responsibility to reach out to them.
"Within my capacity, I hope I will be able to continue his (Rev Dhammananda's) service." Rev Ratana also hoped to work with the country's political leaders in building a developed nation.