Wat of the lofty sitting Buddha
The Star, February 5, 2007
Sik, Kedah (Malaysia) -- Unbeknown to many, soaring into the azure sky in Kedah's backwaters is the majestic statue of a 21m-tall sitting Buddha in meditation pose at Wat Kalai in Jeneri, Sik.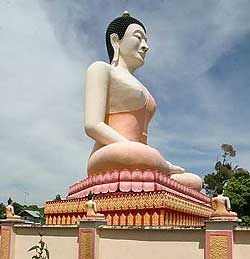 << TOWERING FAITH: This stately statue of the Buddha sits majestically in meditation at the 200-year-old Wat Kalai in Sik, Kedah.
What may be called one of the wonders of Kedah state, the statue of the Buddha at Wat Kalai is another architectural marvel.
The stone and clay painted statue that sits above its decorated lotus plinth is very well preserved since it was built in 1984.
Chief monk Achandam, 28, said the statue was built during the tenure of his predecessor chief monk Chow Khun at the 200-year-old Siamese temple.
He said the temple, set amidst the tranquil outback of Sik, is frequented by Buddhist devotees who offer prayers and seek blessings.
"We have many devotees and visitors from here (Sik) and the other states who come to offer prayers during weekends," he said.
The statue is located within four walls with 64 smaller statues of the sitting Buddha placed atop the surrounding walls.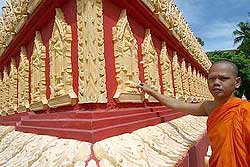 Solid sculpture: Chief monk Achandam >>
showing the concrete carvings on the richly decorated foundation base of the huge statue.
Underneath the huge sitting Buddha lays the niche for keeping ashes of the dearly departed.
However, many of the tiny compartments are empty now because relatives had moved the urns to other Siamese temples in Sik.
According to a devotee, who wished to be known only as Leong, Wat Kalai, which is one of the oldest Siamese temples in Kedah, used to be the place of congregation for devotees on special Thai occasions, festivals and prayers.
"But that was once upon a time. One of the most frequented temples now is Wat Cherok Padang about 7km away from Wat Kalai," he said.