Electric candles are in Penang
By ANTHONY CHEW, The Star, April 21, 2007
PENANG, Malaysia -- A Buddhist temple here is taking a bold move away from tradition, by replacing wax candles with LED-made candles, beginning on Wesak Day this May 1.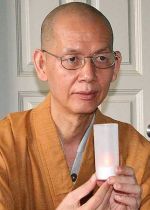 << Modern times: Rev Wei showing an LED candle at the temple.
Than Hsiang Buddhist Temple abbot Rev Wei Wu said each electronic candle, fitted with rechargeable battery, could last for about 10 hours.
It is believed the temple will be the first in the country to introduce the gadget to devotees.
He said the candles were safer, durable and smoke-free compared with wax candles now being used by devotees for prayers.
"The electronic candles are brighter and the battery can be recharged at least 500 times," Rev Wei told The Star.
The temple has ordered about 3,000 candles from Zhejiang, China, and the stock will arrive next week.
A component fitted with LED (light emitting diode) saves energy and does not generate lots of heat.
"We will stop using wax candles for prayers because they are a fire risk and they cause pollution," he said, adding that though the electronic candles were "a bit expensive".
"We have also not been using joss-sticks at the temple and this practice has been accepted by devotees," he added.
During religious festivals including Wesak Day celebrations, devotees buy "lotus" wax candles, costing between RM6 and 20 each, to perform their prayers.
Rev Wei said 2,551 electronic candles would be lighted to usher in the Buddha Year 2551 on Wesak Eve on April 30 in a ceremony at the temple's car park in Bayan Baru.
The donation for each candle is RM50 and donors may affix their name or their family's name on it. A souvenir will be given and all proceeds will go to the Mitra Welfare Fund and the International Buddhist College project.
All devotees are invited to attend the ceremony to pray for world peace, prosperity and harmony.
Rev Wei said the temple would also donate RM500,000 to SM Phor Tay on April 30 for its relocation from Bagan Jermal Road to Sungai Dua.
Devotees may call the temple at 04-641 4822 for participation in the candle-lighting ceremony.