A hive of activity as Wesak approaches
By YIP YOKE TENG, Photos by AZMAN GHANI and UU BAN, The Star, April 30, 2007
Buddhists in Malaysia celebrate Wesak Day on May 1 and preparations have been in full swing at Buddhist temples around the country. Star Metrovisited Buddhist Maha Vihara Temple in Brickfields and Sri Lanka Buddhist Temple in Sentul to see what is in store for this year's Wesak celebrations.
Kuala Lumpur, Malaysia -- COLOURFUL prayer flags can be seen fluttering over Buddhist temples again. The flags, in colours of the aura seen around Buddha when he attained nirvana, herald Wesak Day – the day to commemorate the birth, enlightenment and passing away of Buddha.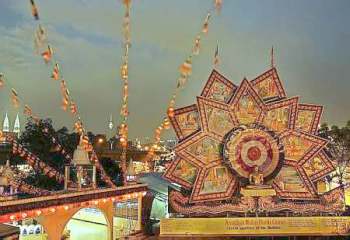 << Awe-inspiring: The giant pandal stands tall at the Sri Lanka Buddhist Temple in Sentul.
Buddhists are a busy lot during this time of the year, not just getting themselves spiritually prepared but also sprucing up temples for the special day.
At Buddhist Maha Vihara Temple in Brickfields, rows of canopies have already been put up along the road leading to the temple, which will host the largest Wesak celebrations in the Klang Valley. NGOs and traders are expected to occupy spaces under the canopies on the day.
The temple was already a hive of activity yesterday , as monks and devotees came together for a Caring and Sharing programme that gave away provisions to 1,500 underprivileged people from 18 homes.
Women, Family and Community Development Deputy Minister Datuk G. Palanivel officiated at the event, which has been a custom here for more than 20 years.
Meanwhile, a total of 25,000 oil lamps have been laid out and a giant lantern handmade by 10 monks from Sri Lanka draws attention while the theme "Religious Harmony, Key to Nation Building" echoes throughout the temple.
Also gracing the temple are 34 wooden statues of Buddha flown in from Sri Lanka. The statues will be exhibited for two weeks in conjunction with Wesak celebrations.
On top of that, Buddhist practitioners from more than 16 countries, including Sri Lanka, Thailand and Japan, will converge at the temple on May 5 for the Wesak Day Cultural Night. Women, Family and Community Development Ministry parliamentary secretary Datin Paduka Chew Mei Fun will launch the event.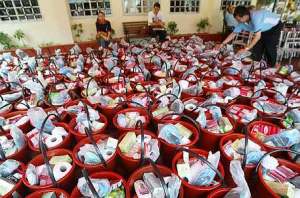 All set: Devotees and monks are busy as temples prepare for Wesak Day on May 1 >>
While all this was going on, a group of devotees were busy constructing two floats, which will join 20 other floats contributed by different Buddhist organisations and up to 30,000 Buddhists as well as Deputy Home Affairs Minister Datuk Tan Chai Ho for the evening Wesak procession.
But what makes the Wesak celebrations here all the more interesting is that attendees will observe a 15min meditation session at 10am, 3pm and 7pm on the day.
"Nowadays, Wesak is like a carnival but it is supposed to be spiritual and religious. The Wesak feeling is fading away, we must try to bring it back slowly, therefore we are introducing the 15min meditation sessions," said chief monk Ven K. Sri Dhammaratana Nayaka Thero, who is also the Chief Sangha Nayaka of Malaysia (Chief High Priest).
"We are trying to change the way the people celebrate Wesak, but this cannot be done overnight. I hope the public can understand our intentions," he added.
He said the many activities carried out in conjunction with Wesak celebrations served different purposes.
"The Caring and Sharing programme is to remind Buddhists to be generous and to care for the needy, the Cultural Show is for Buddhists to remember the traditions that are fading away, especially among the younger generation, while Wesak Day should be kept peaceful to revise the teachings of Buddha."
Ven Dhammaratana also delivered his Wesak message: "I hope all Malaysians will stand united so that the country can continue enjoying peace and harmony.
"This year marks the country's 50th Independence Day. Being Malaysians, we are all together in the same family although we are of various ethnic groups and religions. We should always practise patience, tolerance and understanding."