Wesak celebrations get off to a great start
The Star, May 1, 2007
PETALING JAYA, Selangor (Malaysia) -- The Wesak Day celebrations got off to a great start with devotees thronging the Subang Jaya Buddhist Association (SJBA) premises in SS13 last night for special prayers.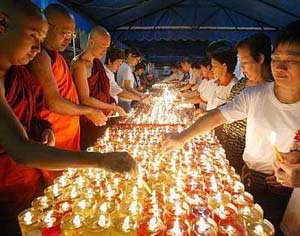 << Light of wisdom: (From left) Venerable Nyanananda, Venerable Pallegama Vijitha and Venerable Nyanaramsi lighting the oil lamps together with devotees in Petaling Jaya last night.
As they helped themselves to vegetarian dishes, volunteers put up oil lamps, as is the customary Buddhist practice.
The first prayer session at the main shrine hall was conducted by the temple's two resident monks, Venerable Nyanaramsi and Venerable Nyanananda, and visiting monk Venerable Pallegama Vijitha, who is from the United States.
Organising committee official Koh Lai Huat said the first service was a symbolic prelude to the oil lighting session, before devotees received blessings from the monks.
"We lit 2,800 oil lamps. By tomorrow (today), we expect it to increase to 5,000 oil lamps,'' said Koh.
In Buddhism, the lighting of the oil lamps signifies the light of wisdom overcoming the darkness of ignorance.
He said volunteers would take turns to replenish the oil to keep the flame on until 11pm tonight.
SJBA president Chim Siew Choon said banners with pictures of Bapa Malaysia Tunku Abdul Rahman, former MCA president Tun Tan Cheng Lock and former MIC chief Tun V.T. Sambanthan will also be displayed to show gratitude to their contributions.
Later, there was a religious talk, choir singing by SJBA's youth group and a procession by devotees around the temple.
Devotee Mow Ken, 74, from Cheras, said participating in the Wesak Day eve services and procession was a yearly ritual for her family and her.
"It's a humbling experience. I just feel very good to be able to be a part of this very important date in the Buddhist calendar," she said.