Good turnout at Wesak parade
By JASON LIOH and TEH ENG HOCK, The Star, May 5, 2007
MALACCA, Malaysia -- More than 3,000 people waited by the roadside to catch a glimpse of the Wesak Day procession as it passed through the city on Monday night.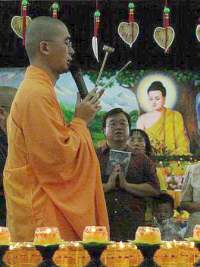 << Seeking blessings: Devotees guided by Ven Sit Chit Huan praying at the SJK(C) Foon Yew 1's hall.
The event saw the participation of about 1,000 people from various Buddhist societies and schools in Malacca. Joining the procession were 20 elaborately decorated and brightly lit floats.
The procession started at the Seck Kia Eenh Temple in Gajah Berang and passed through several roads including Jalan Tun Ali, Jalan Kota Laksamana and Jalan Tengkera.
School bands, kindergarten students, dragon and lion dance troupes and devotees young and old took part in the procession.
Wesak is considered an important day for Buddhists as it marks the birth, enlightenment and death of Buddha.
Watching the procession the first time, tourists Ou Love, 30 and Lauren Love 27, were totally taken in by the spectacular sights and sounds.
"It's amazing. I have never seen anything like this in England. The parade is so colourful and the people are very devoted to their religion," said Lauren.
The parade saw the participation of various Buddhist societies and schools.
In JOHOR BARU, dozens of children were among the hundreds at the Wesak Day procession.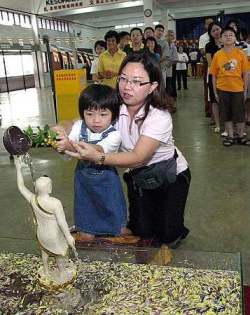 Helping hand: Seven-year-old Angeline Goh bathing the statue of the Buddha with the help of her mother See Swee Hong, 40, at the Wesak Day celebrations in Johor Baru >>
Like their parents, the children, some as young as three, held lighted candles as they marched along.
"We have been bringing them to temples since they were three, so they know what Wesak Day is all about," said Yap Ho Kim, 60, who was lighting candles for her two grandchildren Chua Li Ling, 10, and Chua Ser Aun, six, at the procession at SJK (C) Foon Yew 1.
Yap said her grandchildren had initially asked many questions about prayers and traditions.
"We try to simplify the answers so that they understand. And of course, the elders have to keep an eye on them when they are carrying candles so that they do not burn themselves," she said.
Li Ling said Wesak Day was a time for prayers. "It is when we pray and say thanks," she said.
On this day, Buddhists commemorate the birth, enlightenment and the passing of Gautama Buddha.
Soon Shan Li, seven, had a more accurate answer.
"It is Buddha's birthday. That is why we are celebrating," she said.
Shan Li and her brother Soon Wei Ching, five, were carrying candles with their mother Ong Siew Bee, 42, at the procession.
"Since they are still young, I teach them the basics about Buddhism. Like many other religions, Buddhism is about teaching kindness and living in peace," said Ong.